The automatic bottle unscrambler machine is the equipment to feed bottles to the next machine orderly. It is suitable for round plastic bottles and glass bottles feeding in the liquid bottle filling production line. The PET bottle unscrambler can match with the conveyor belt of the labeling machine, filling machine, and screw capping machine, improving production efficiency. It also can be used in the junction of the assembly line as a buffer platform, shorten the length of the conveyor belt, saving space.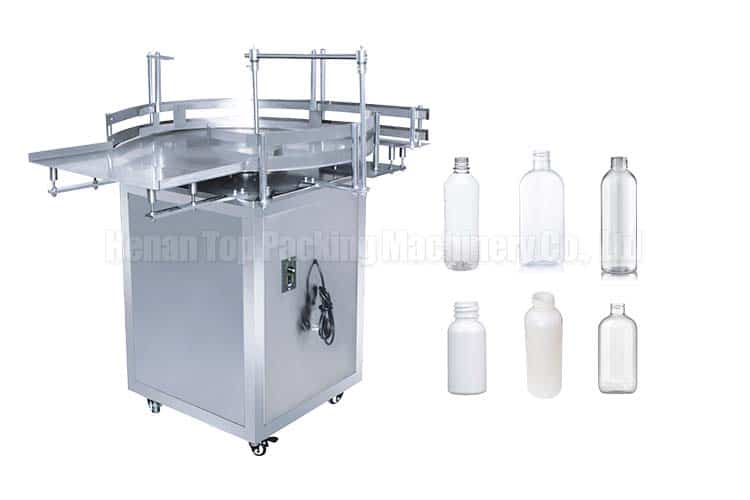 Features of the bottle unscrambler machine
This bottle unscrambler machine has the characteristics of simple structure, small occupied space, fine quality, stable, and reliable performance, suitable for plastic bottle and glass bottle. The size of the bottle diameter is 20-100mm, and the height is 20-150mm. The machine is easy to operate, maintain, and clean. And it usually connects other machines to use, such as liquid filler, bottle labeler, bottle washing, etc. It also can be one part of a liquid bottling line. Besides, we provide customization services for different customers' requirements.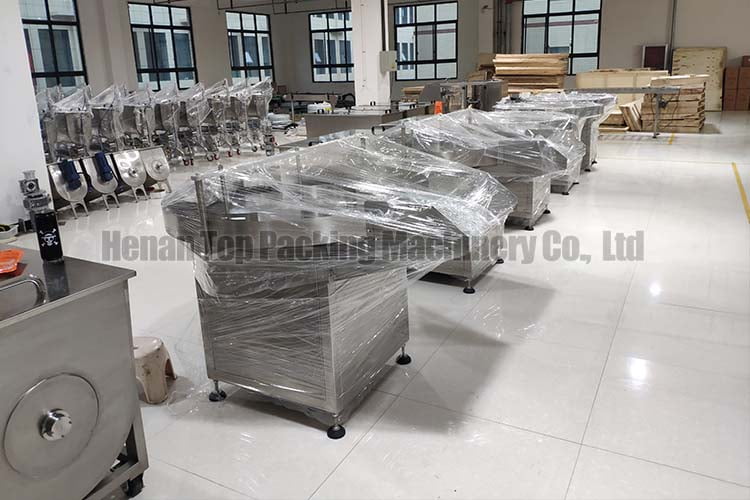 How to make bottles move orderly by the automatic bottle unscrambler machine?
The turntable of the unscrambler drives bottles to rotate automatically. And these bottles are close to the edge of the turntable during the dial spinning, entering the next machine orderly along the groove. It can be used before a filling machine, labeling machine, bottle washing machine, and liquid filling equipment based on the actual situation.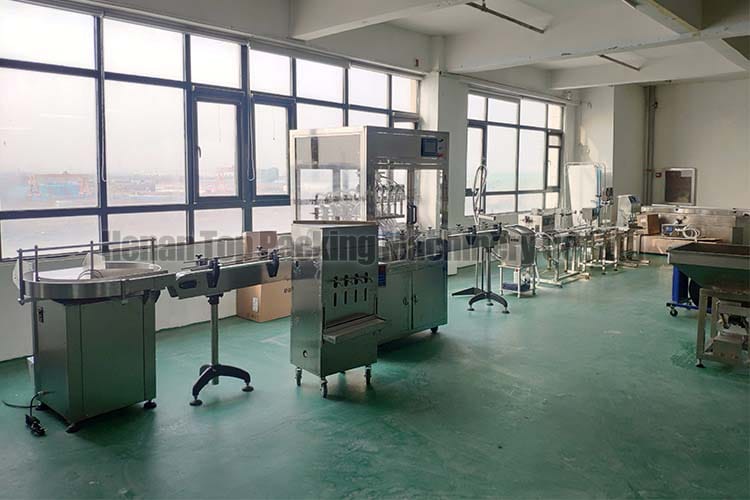 The bottle unscrambler technical data
| | |
| --- | --- |
| Power | 0.12KW |
| Voltage | 220V/50Hz |
| Diameter of the platform | 800mm |
| Applicable bottles | 20-100mm(φ), 20-150mm(H) |
| Machine size | 950*900*1150mm |
| Weight | 65kg |
The parameter is a reference. We offer OEM service. And we can help you match a whole filling production line for your products. Welcome to get in touch with us to get more details and we will reply to you as soon as possible.