Flat label applicator widely applies to a variety of flat surface or small arc surface products on the plane labeling, such as books, notebooks, bags, folders, lunch boxes, square bottles, covers, cartons, square ham, disposable dishes, etc. People can use the flat surface labeling machine alone or in the production line. Flat surface label applicator for sale in Henan Top Packing Machinery includes the vertical type and desktop type. The vertical box label applicator is more used in the assembly lines. While the other one is convenient to place on a table.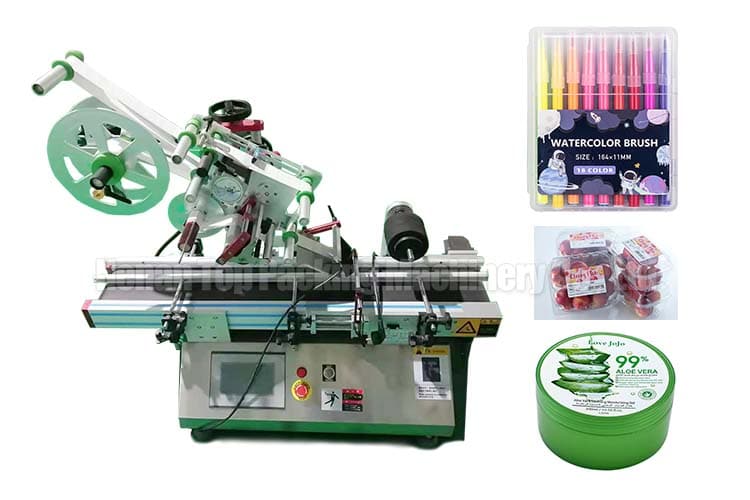 What are the characteristics of the flat label applicator?
The label applicator for flat surfaces is equipped with a set of label conveying rollers above its conveyor belt. This design is easy to stick the label on the flat surface.
People can set running parameters on the touch screen with simple operation.
In order to seal more beautiful, the operator is able to adjust the width of the conveyor belt, the height of roll of label device, and the horizontal position of the label.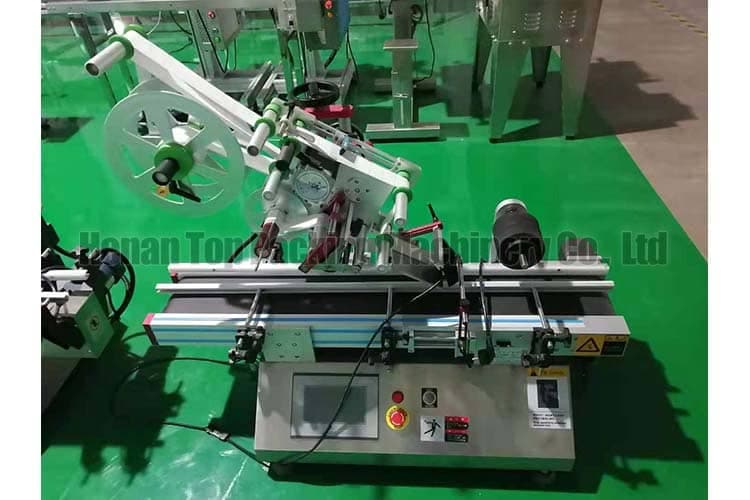 Common applications of the flat surface labeling machine
The flat label applicator machine is suitable for various flat surface labeling. The shapes of labels include round, square, ring, oval, or irregular. The label applicator machine for flat surfaces has been widely used in food, drink, delivery, medicine, daily chemical, toy, etc. It is usually labeled on the flat bag and the upper cap. There are snacks, frozen food, boxed fruit, packed lunch, cake, boxed chewing gum, chocolate, candy, boxed ice cream, delivery boxes, cosmetics, aloe vera gel, puzzles, and so on.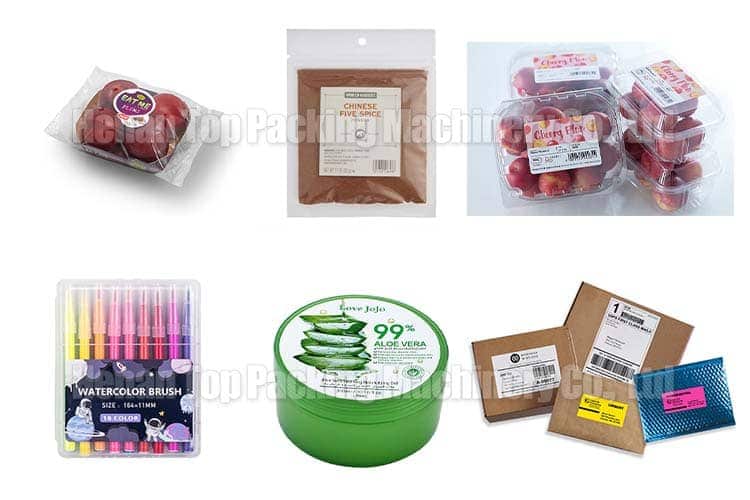 Main parts of the flat label applicator
The automatic box labeling machine consists of a conveyor belt, touch screen, label holder, emergency button, rotary handles, brush. After the object enters the flat surface labeling machine, the conveyor belt will transport it to the label. The label on the labels holder will move to the object. Then the brush is used to flatten the label. You can set various running parameters, such as the length and width of the objects, labeling speed, labeling time, label length, etc. For different sizes of boxes and bags, people can adjust the width of the conveyor belt and label's position by handles.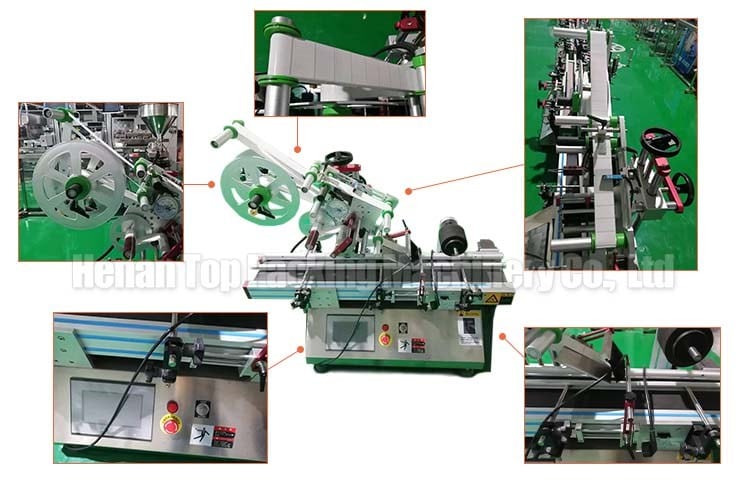 Related machines about the carton labeler
Except for the flat surface labeling machine, we also supply an automatic bottle labeler, liquid bottle filling machine, cup filling and sealing machine, conveyor belt, bottle unscrambler, bottle washing machine, ink-jet printer, carton sealing machine, etc. If you are interested in these machines, welcome to contact us to inquire about a free quotation.
Box labeling machine's technical data
| | |
| --- | --- |
| Power | Stepper motor: 500WServo motor: 950W |
| Labeling speed | 4-150pcs/min |
| Labeling accuracy | ±1mm |
| Applicable object size | L:40-400mmW:40-200mmH:0.2-150mm |
| Label size | L:6-190mmW:20-170mm |
| Machine size | 1600*780*1480mm |
| Weight | 180kg |