Cup filling and sealing machine is an ideal cup packaging machine for mass production. It can automatically complete the cup filling and sealing process of cup feeding, material filling, date printing, plastic film conveying, and cup cover sealing. The automatic cup filler is equipped with a lot of cup molds so as to fill and seal row by row when it runs. There are 4 cups/row, 6 cups/row, 8cups/row available based on the customer's needs for production output. Besides, the cup mold is customized according to the size and shape of the cup.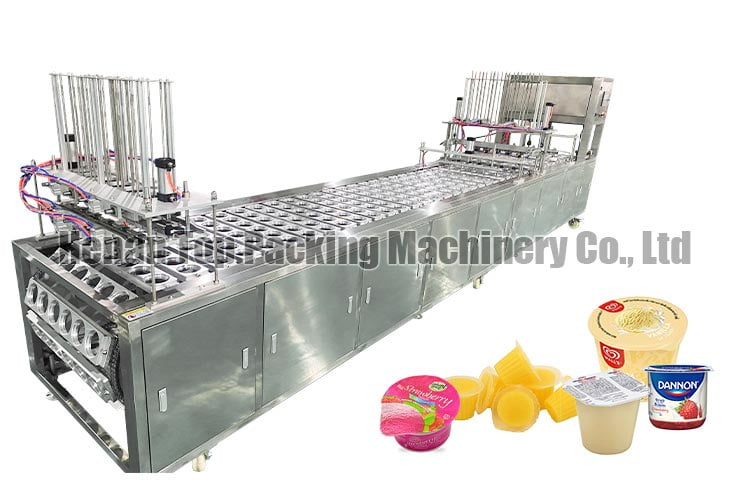 Characteristics of the cup filling and sealing machine
Reasonable design, compact structure, high automation, high production.
Twice filling system is available for big filling volume per cup.
Equipped with multiple filling head, adopt quantitative filling, precisely and efficiently.
Heat sealing is firm, neat, and beautiful, and sealing temperature is adjustable.
Its frame is made of stainless steel and aluminum alloy.
The cup mold is customized according to the actual cup, such as its shape, diameter, height, etc.
The electrical appliances and pneumatic components adopt internationally renowned brands and work steadily.
OEM service is available.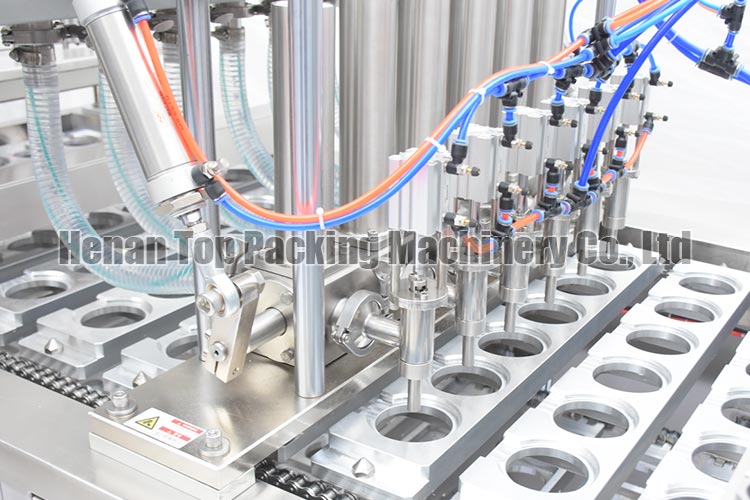 How about the cup filling machine structure?
The cup filling sealing machine mainly consists of the control panel, cup falling device, cup mold, material hopper, plastic film conveying system, filling system, heat sealing system, etc. The control panel contains a touch screen, convenient to control the machine's running. Cup falling machine can place cups into molds row by row. If the material is viscous, we can add a stirring device to the material hopper. Sealing temperature is adjustable based on the texture of the film and cup, and the sealing effect. We offer 4 cups, 6 cups, and 8 cups per row optional. For big filling volume, the equipment can adopt twice filling to save filling time.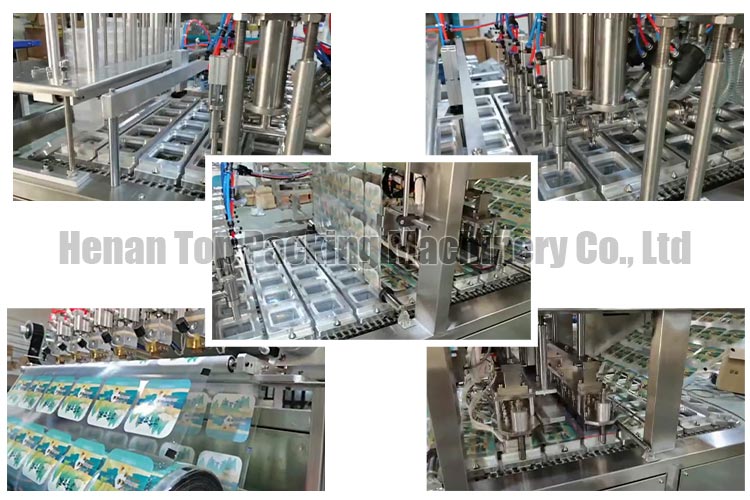 Applicable material of the automatic cup filling machine
Continuous cup filling and sealing machine is suitable for a variety of liquid, paste, semisolid in cups. It applies to jelly, ice cream, pudding, yogurt, milk, porridge, tomato sauce, salad dressing, chocolate sauce, peanut butter, chili sauce, shampoo, hair conditioner, and so on.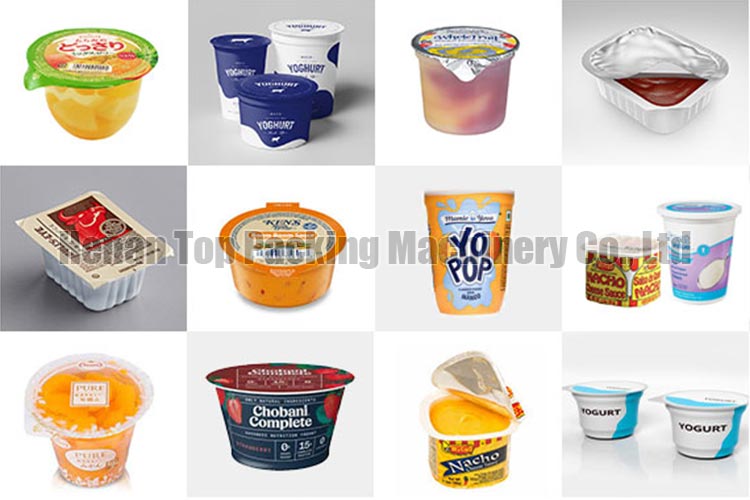 What differences between cup filling sealing machine and rotary cup filler?
The rotary cup filling machine is equipped with a rotary working platform with many cup molds, occupying a small space. Its maximum filling volume is not more than 500ml per cup. And the equipment has a single-cup type and a double cup type for choosing.
While the cup filling and sealing machine is a horizontal machine, requiring more floor space. It not only can fill less than 500ml per cup but also can fill more than 500ml per cup. Besides, the number of cup molds per row can be 4, 6, 8, etc. If needed, we support customization services.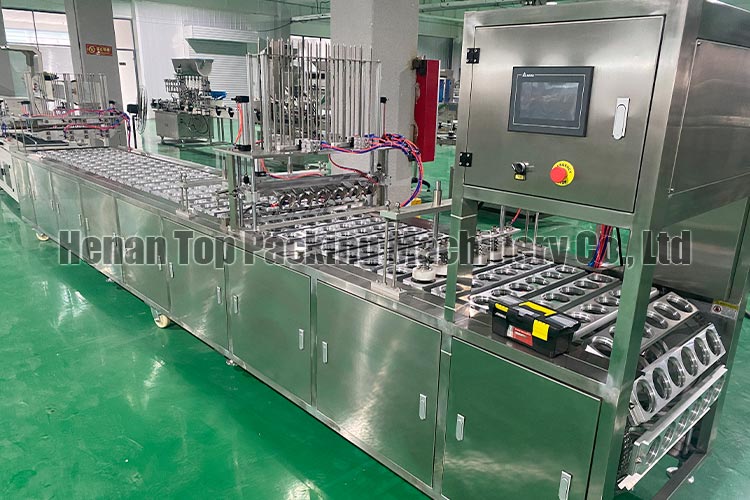 Cup filling and sealing machine's technical data
| | | |
| --- | --- | --- |
| Type | XBG60-4 | JXS-1680 |
| Power | Three-phase four-wire 380V/50HZ, 2.4Kw/h | 380V2.2Kw |
| Temperature control range | 0-400℃ | / |
| Air consumption | 0.6m3/s | / |
| Air pressure | 0.65-0.85Mpa | 0.6-0.8Mpa |
| Packing speed | 1800-2000cup/h | 1200-7200cup/h |
| Weight | 700kg | 1050kg |
| Dimension | 3000mm*600mm*1600mm | 3200*1350*1720mm |
The production speed of the different filling nozzles
| | | |
| --- | --- | --- |
| Model | The number of cups per row | Production speed |
| BG60A-4Q | 4 | 3200-3600cup /h |
| BG60A-6Q | 6 | 4800-5400cup/h |
| BG60A-8Q | 8 | 6400-7200cup/h |