Food grinding machine is mainly to grind all dry products into required powder. The dry items can be spices, rice, beans, and others. Because the grinding machine is for food, the machine adopts food-grade stainless steel material. The stainless steel belongs to 304 stainless steel, which resist to corrosion. Its structure is with the reasonable structure, compact design, and easy operation. Besides, the milling machine has high-speed grinding and high power. The customization service is also one of our characteristics. We can offer the most proper machine to satisfy your businesses. Looking forward to your calls! We will reply as soon as possible!
Types of Food Grinding Equipment for Sale
In Henan Top Packing Machine Co., Ltd, we have three types for sale. They are SL-20B, SL-30B, SL-40B. Under the same range of grinding fitness, the production capacity varies. There is a sieve inside. It determines the grinding fineness. And the statistical unit of fineness is mesh. The larger the mesh value, the finer the grinding. It's commercial usage. Usually for those who have powder or mixed powder for sale. Under the general situation, it's collocating with the mixer(drum mixer, horizontal mixer). They function to complete the preparation work before powder packaging. So, it's often working with the powder packing machine to form a fully automatic powder packaging line.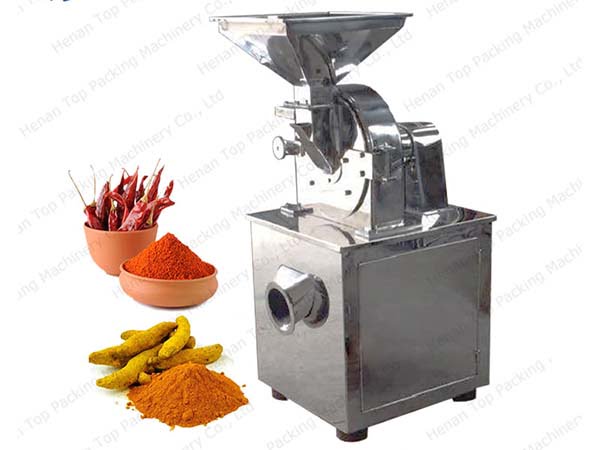 Technical Parameters of Food Grinding Machine
| | | | |
| --- | --- | --- | --- |
| Machine model | SL-20B | SL-30B | SL-40B |
| Production capacity | 15-150kg/h | 30-300kg/h | 80-400kg/h |
| Grinding fineness | 20-200mesh | 20-200mesh | 20-200mesh |
| Material limit | 10mm | 10mm | 10mm |
| Voltage | 380V 4kW | 380V 5.5kW | 380V 7.5kW |
| Motor speed | 5300r/min | 4500r/min | 3800r/min |
| Machine dimensions | 690*710*1140mm | 760*760*1300mm | 790*870*1370mm |
| Machine weight | 150kg | 200kg | 260kg |
Features of Milling Machine for Food
High quality material. Food mill machine features a shell made of 304 stainless steel material, which will not be crushed during the transport and puts an end to rust;
Wide applications, such as the pharmaceutical, chemical, pesticide, food and food industries;
A grading mechanism is installed in the food grinding machine to enable pulverization and grading to be completed at one time;
Reasonable structure, compact design, as well as stable performance;
The innovative steel milling technology, with finest grinding diameter as you required, opens the door to healthy life;
We support the customization service, and the voltage can be changed based on power requirements of your country and region as well.
Applications of Grinding Machine for Food
The usage is extremely extensive. Because it can be used in chemical materials, Chinese herbal medicines, various low-oil foods, whole grains, and other hard, brittle materials. Detailed items, such as cocoa beans, ginger, spices like cinnamon, black pepper, chili, soybeans, white sugar, rock candy, alums, bark, banana, rice, etc. Also, items containing a certain oil do not have such grinding fineness. For example, peanuts, walnuts.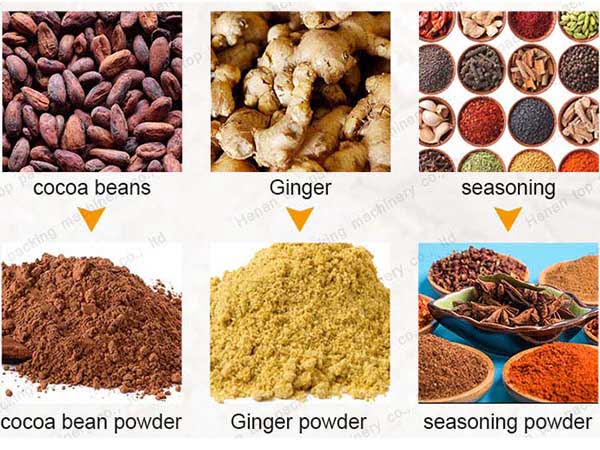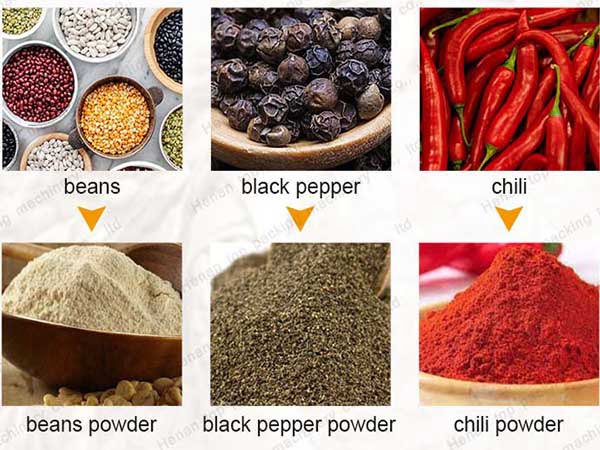 Structure of Food Mill Equipment
In fact, its structure is very simple. It mainly consists of the inlet, crushing cavity, outlet, speed adjustment, switch button. It's very easy to understand and simple to operate the food grinding machine. Inside of the machine, it's a toothed claw grinder. When working, it has the high-speed operation between the movable toothed disc and the fixed sprocket wheel. The material to be grinding is subjected to impact by the toothed disc, friction, and material collision with each other to obtain powder. In fact, this is the working principle of the food grinding machine. If you still have any doubts, please contact us for more information!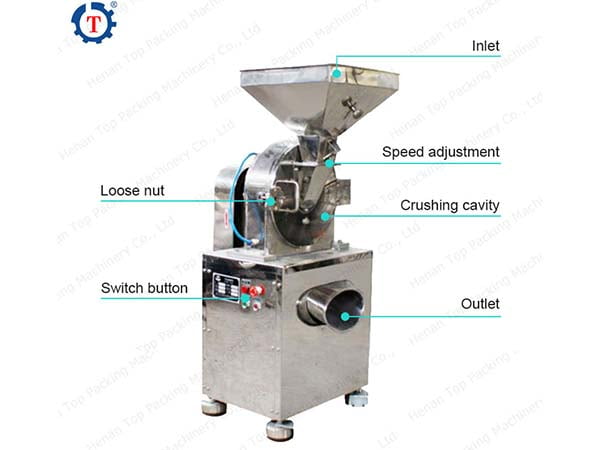 Conclusion
In short, this food grinder is made of all stainless steel, and it is often combined with mixers and powder packaging machines to form a fully automatic powder production and packaging line. This machine is simple to operate, high in quality, and it is a commercial machine. We can also customize a machine for you according to your needs. In addition, our machines generally have a 24-month warranty and we provide after-sales service. If you are interested in this, please feel free to inquire.