Meat packaging machine is a great tool for packing various meat, such as chicken meat, beef, duck, pork, etc. In Henan Top Packing Machinery Company, mainly two types are meat vacuum packaging machine and pillow packing machine. Meat is a kind of food, which requires strict standards to adhere to food safety protocols. Packaging meat is aimed at keeping clean and hygiene to make sure the packed meat is safely edible for people. And the meat packing machine meets the above requirements. It's also a sort of food packaging machine. If you are looking for this kind of packing machine, get in touch with us as soon as possible!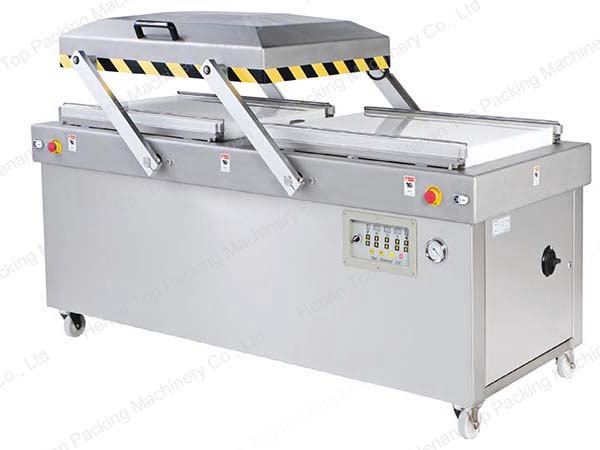 Vacuum Packaging Machine for Meat on Sale
Meat is usually packed by the vacuum packing machine in order to extend the shelf life and prevent the microorganism in the air. Four types are available in our enterprise, respectively single chamber vacuum packaging machine, double chamber vacuum packaging machine, stretch film vacuum sealer, and external suction vacuum sealer. Among these machines, when using a single chamber vacuum sealer and double chamber vacuum sealer, you should consider the product size due to the limited space. The stretch film vacuum packing machine can vacuum lots of products at the same time, which vastly improves the working efficiency. When vacuuming the product by the external suction vacuum packaging machine, the product should be held by manual. However, a meat vacuum packing machine has the advantages of preventing spoilage, avoiding secondary pollution, and keeping fresh and convenient to store. Want to know more about this machine? E-mail us now!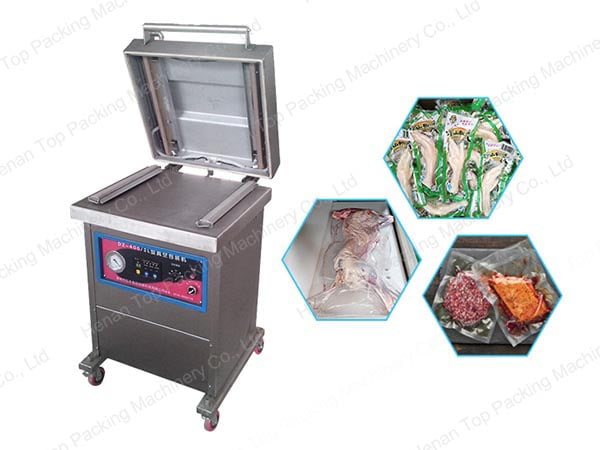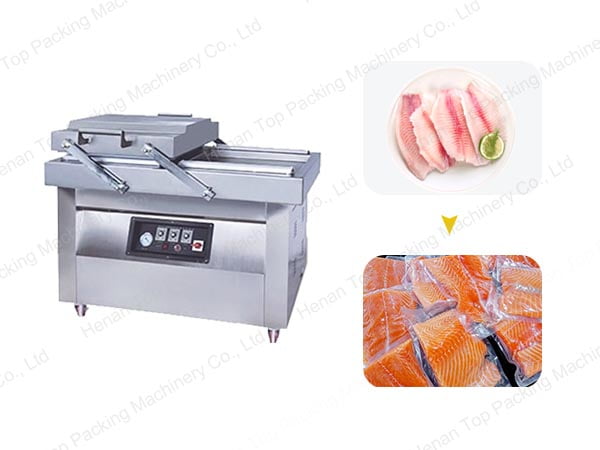 Meat Packaging Equipment-Pillow Packing Machine for Sale
Pillow packing machine, or horizontal packaging machine, is very common in the packaging meat industry. It's divided into two types: one is the film reel above the conveyor belt, another one is the film reel below the conveyor belt. The horizontal packing machine has two motors: the larger motor controls the feeding, discharging, and cutting; the smaller one is in charge of pulling and sending the film. Servo motor is optional. If you choose a servo motor, its conveyor belt is a leather belt with a sensor, which is able to sense the product material without wasting the film, stop by itself when there is no film. As a result, it saves time and film, no empty bag is packed, and it's proved that the machine has stable performance. Are you interested? Come to us for boosting your business!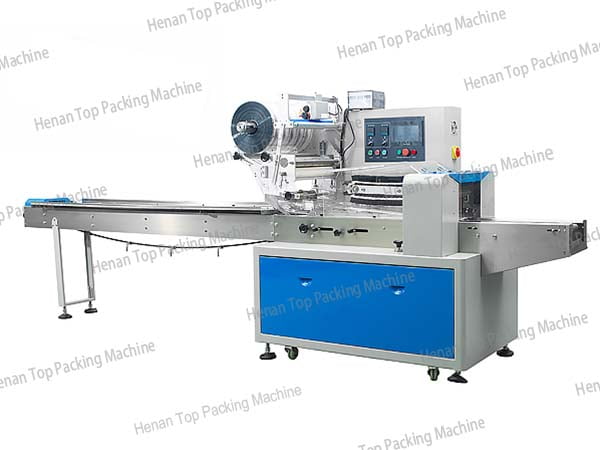 Various Applications of Meat Packing Equipment
The meat packaging machine is, generally speaking, not only for packing all kinds of meat, namely food but also for packaging non-food. Such as, a vacuum meat packaging machine is vacuum packaging equipment in essence, suitable for chicken meat, fish, beef, pork, duck, mutton, sauce products, spices, preserved fruits, grains, bean products, chemical products, medical products, etc. Pillow packing machine is for meat with tray/box, vegetables, moon cake, fruits, biscuits, mask, etc. The machines are automatic packaging machines, whose strengths are to release the workforce and reduce artificial touch, beneficial to the control of the sanitary environment, especially for the food industry. We are looking forward to your message!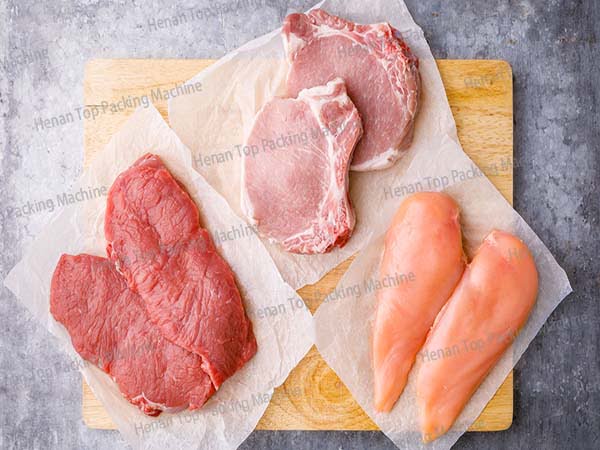 How to Choose Reliable Meat Packaging Equipment Suppliers?
Taking us as an example, details are described below. As meat packaging machine manufacturers and suppliers, we have won many honorary titles. We have been engaged in the production of meat packaging equipment for nearly thirty years, and our machines passed CE, ISO 9001, GMP and gained certificates. We mainly design and make packing machines which substitute for the old fashioned ones, to boast the powerful production abilities, as well as domestically leading and world-advanced technology. Also, we are manufacturing the machines, all the packing devices we produced are of excellent quality. As the producer and provider at the same time, you can get the best quality and valuable packing machine from us. We are highly appreciated your reply!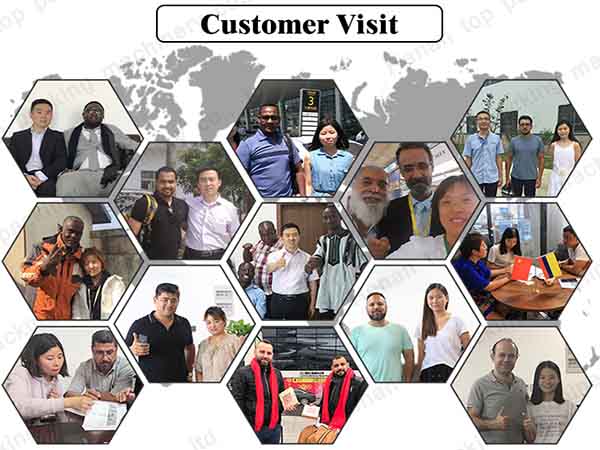 What is Meat Packaging Equipment Price?
A lot of factors have a big influence on the packing machine price. For a meat packaging machine, firstly, you should know what machines you want to pack meat. Two types of alternatives are here for you. Every type differs in price. A vacuum packaging machine is to vacuum the air from the packed meat; a pillow packing machine is to wrap the meat to keep insulated from the air. Secondly, diverse performance for the packing machines. A vacuum sealer is to stably run and with simple structure; horizontal packing machine can be equipped with the servo motor, corresponding servo driving system arising; the better the performance is, the higher the price is. Thirdly, pay close attention to the quality. We are always keeping on the principle of quality first, no matter how the cost changes. It's very useful for you to choose the packing machine.
Advice on Selecting Meat Packing Machine
Several pieces of advice are here for your reference. Determine what kind of meat you are going to pack. Usually, you want to pack a few kinds of meat, but the effect of the special machine is better than the compatible machine. High quality and the valuable machine is the first primary principle. The packing equipment has a tremendous improvement to ensure stable quality and technology. Besides, try to select the enterprise with good after-sales service. Our company is with a high reputation and a powerful and professional team to provide with the strong technical support and timely after-sales service. Welcome to contact us today!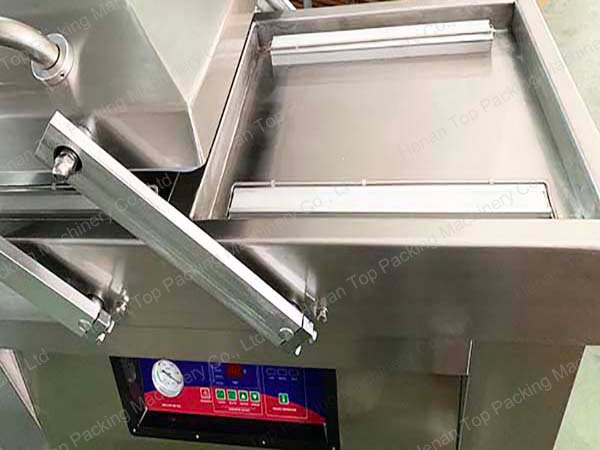 Good Maintenance for Meat Packaging Equipment
Every kind of packing machine needs to do maintenance, including meat packing machine. Before start operation, check carefully each part of the packing machine, commissioning, if anything, do the correct thing in time, and keep the machine in the perfect conditions. Because it's meat packing equipment, cleaning is necessary after finishing the working. Rinsing the machine is to achieve the goal of keeping the machine hygiene, which is also giving more confidence to use your products. Regularly do maintenance and make a good record. You cannot wait for the time when doing maintenance to maintain. You're supposed to do it before the machines need to maintain. And don't forget to make records, which is clearly for you to get to know the machines. If you are in this business and want to get more information, leave your message!
Basic Parameters of Vacuum Packing Machine
| | | |
| --- | --- | --- |
| Machine name | Single chamber vacuum packaging machine | Double chamber vacuum packaging machine |
| Voltage | 220V/50HZ | 380V/50HZ |
| Vacuum pump power | 0.9 kW | 1.5 kW |
| Sealing power | 0.6 kW | 1.17 kW |
| Absolute pressure | 0.1 pa | 0.1 pa |
| No. of sealing strips | 1 | 2 |
| Sealing strip size | 500 mm*10 mm*2 | 500 mm*10 mm*2 |
| Chamber material | 304 stainless steel | 304 stainless steel |
| Cover material | Organic glass | Organic glass |
| Chamber size | 525*520*130 mm | 525*520*130 mm |
| Machine size | 650*580*960 mm | 1260*605*960 mm |
| Machine weight | 80 kg | 150 kg |
Basic Parameters of Stretch Film Vacuum Packaging Machine
| | |
| --- | --- |
| Upper film width | 396 |
| Under film width | 422 |
| Size of the room | 400*(200~400) |
| Packing speed | 90-110 bags/min |
| Machine weight | 1500 kg |
| Power | 10 kW |
| Dimension | 5.8*0.9*1.9 m |
| Note | OEM service is available. |
Basic Parameters of Horizontal Packaging Machine
| | | | | |
| --- | --- | --- | --- | --- |
| Model | TH-250 | TH-350 | TH-450 | TH-600 |
| Film width | Max. 250 mm | Max. 350 mm | Max. 450 mm | Max. 600 mm |
| Bag length | 45-220 mm | 120-280 mm | 130-450 mm | 120-450 mm |
| Bag width | 30-110 mm | 50-160 mm | 50-80 mm | 50-180 mm |
| Product height | Max. 40 mm | Max. 60 mm | Max. 70 mm | Max. 70 mm |
| Packing speed | 40-330 bag/min | 40-230 bag/min | 30-180 bag/min | 30-180 bag/min |
| Power | 2.4 kW | 2.6 kW | 220V, 50/ 60HZ, 2.6KVA | 220V, 50/ 60HZ, 2.6KVA |
| Weight | 800 kg | 900 kg | 900 kg | 800 kg |
| Dimension | 3770*670*1450 mm | 4020*745*1450 mm | 4020*745*1450 mm | 3770*670*1450 mm |