Premade pouch filling machine is designed for the special bag. As its name implies, the bag should be premade pouches. Such as stand-up, 4 side seal, 3 side seal,  pouches with zippers, bags with carrying handle, etc. All in all, all are special pouches. Besides, it's a fully automatic packing machine. Moreover, two systems compose this pre-made pouch packing machine, respectively bag feeding system and material filling system. Among them, the filling system should be replaced based on the materials to be filled. Because we're the rich experienced manufacturer and supplier, the customization service is available. As a customer, during procurement, you can enjoy it and also the thoughtful service. Looking forward to your reply soon!
Three Types of Horizontal Pouch Feeding Machine for Sale
As a trusted and top-ranked company, Top(Henan) Packing Machine has three sorts of premade pouch filling machines. The models are D-150, D-220, D-250. Because of the filling system matching with the material to be filled, the feeding is different. So, the powder is through the screw. But smaller granules are by the measuring cup in the turntable. While the larger particulars are in the way of multi-head weigher(four-head weigher, ten-head weigher, etc). Liquid and paste are by the liquid pump as well as paste pump separately. Also, here is the general flow diagram. According to the sequence, they're bag placing structure, bag feeding device, automatic bag loading device, mechanical hand clamping bag, vacuum bag opening, filling material, finished product conveying. Please contact us for more information very soon!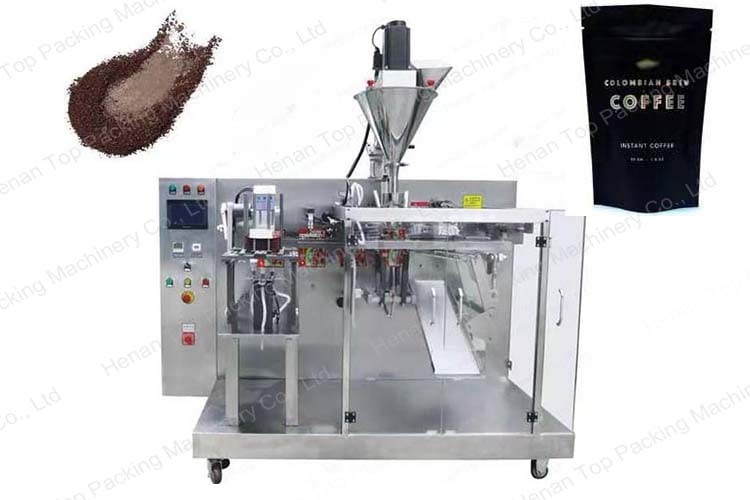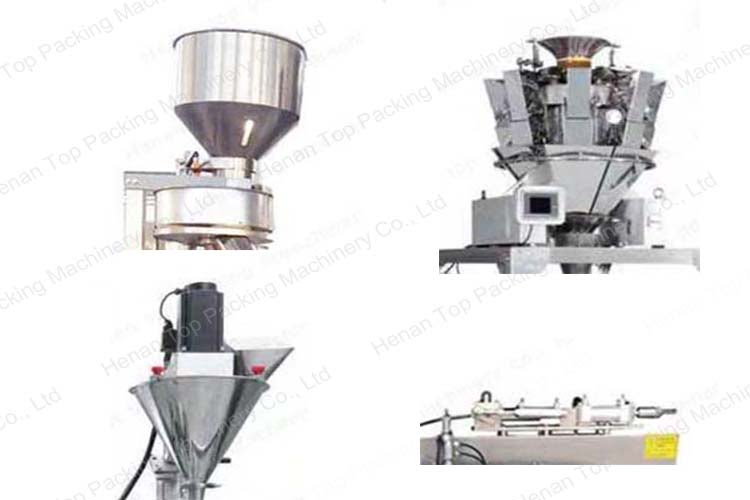 Basic Parameters of Premade Pouch Filling Machine
| | | | |
| --- | --- | --- | --- |
| Type | D-150 | D-200 | D-250 |
| Power | 380V/50-60HZ (3-phase) | 380V/50-60HZ (3-phase) | 380V/50-60HZ (3-phase) |
| Packaging speed | 25-45bags/min | 25-45bags/min | 25-45bags/min |
| Packaging size | W60-160mm, L100-250mm | W80-210mm, L100-320mm | W100-260mm, L110-350mm |
| Packaging capacity | 800ml | 1200ml | 2000ml |
| Air consumption | 0.3m3/min | 0.3m3/min | 0.3m3/min |
| Sealing temperature | 100-190℃ | 100-190℃ | 100-190℃ |
| Machine size(L*W*H) | 1700*1050*1100mm | 2150*1350*1300mm | 2450*1200*1200mm |
Main Features of Premade Pouch Packing Machine
The bag placing structure is very simple and convenient, also equipped with an automatic bag pressing device;
The machine adopts stainless steel, durable and attractive appearance;
It adopts color touch screen, simple operation and multi-functional design;
It has photoelectric eye detection device, realizing the effect of "no filling, no sealing", saving the bag package;
Some carbon steel frames and parts of accessories are processed with the treatment of acid and salt resistant as well as anti-corrosion coatings;
Zipper bag opening mechanism is specially designed for the characteristics of zipper bag opening, in order to avoid deformation or damage of bag opening;
Wide applications, involving granule, powder, liquid, paste, etc;
Customization service is supported.
Various Applications of Premade Bag Filling Machine
Premade pouch filling and sealing machine has a wide variety of applications. Different filling system has the corresponding applied areas. Mainly in granule, powder, liquid, paste, etc.
Granule: candy, peanuts, green beans, pistachios, puffed food, beans, monosodium glutamate, salt, granular drugs, capsules, seeds, chemical spices, chicken essence, melon seeds, pesticides, fertilizers, feeds, etc.
Powder: milk powder, glucose, corn starch, condiments such as chili powder, black pepper, cinnamon powder, ginger powder, etc.
Liquid: soy sauce, rice vinegar, fruit juice, drinks, milk, soy milk, yogurt, rice wine, etc.
Paste: tomato paste, chili paste, bean paste, peanut paste, sesame paste, mushroom paste, jam, etc.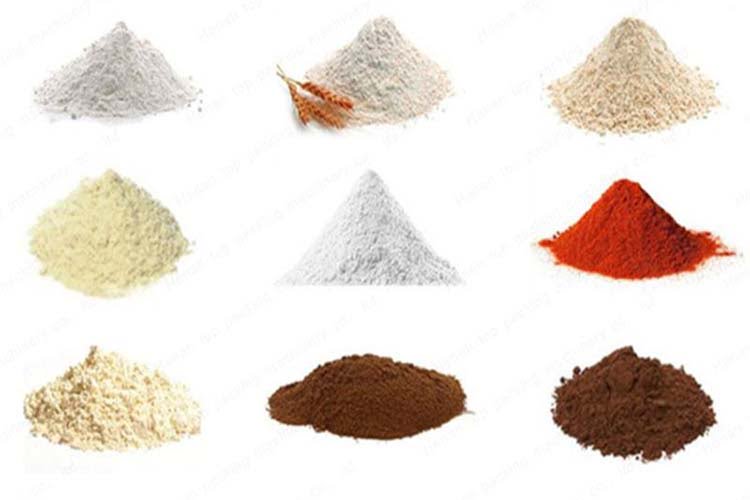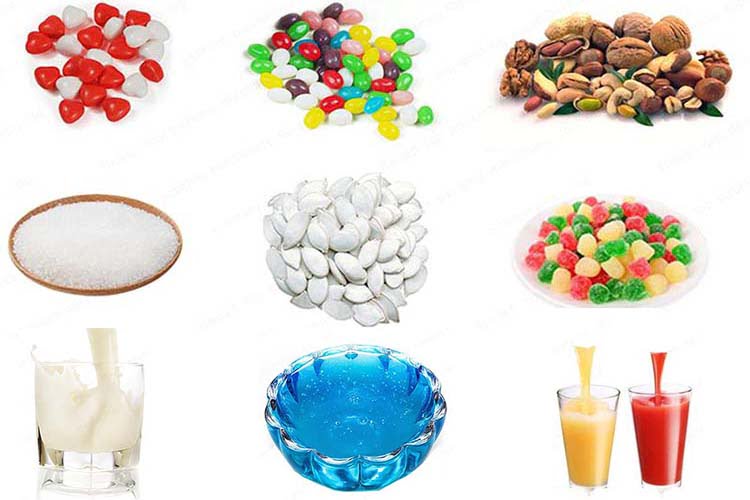 Electric Components Brand List
The components of premade pouch filling machines adopt famous brands. That's why our machine has superior quality and long service life. Due to the pneumatic control, the air compressor is in demand. Controlled by pneumatic device: sealing air cylinder, vacuum solenoid valve, vacuum pressure meter; controlled by the electric device: PLC, touch screen, temperature controller, power switch. Brands of these components are displayed in the below list for your reference. If you want to learn more details or information, please call us and we'll reply as soon as possible!
| | | |
| --- | --- | --- |
| Item | Brand name | Production place |
| PLC | Siemens | Japan |
| Touch screen | Wenview | Taiwan |
| Temperature controller | Omron | Japan |
| Sealing air cylinder | Airtac | Taiwan |
| Vacuum Solenoid valve | Airtac | Taiwan |
| Vacuum pressure meter | SMC | Japan |
| Power switch | Mingwei | China |