Vegetable packing machine is a kind of automatic packaging machine, two types available from us, respectively vacuum packaging machine and pillow packing machine, designed and used not only for various vegetables, such as tomatoes, cucumbers, greens, and others but also suitable for meat, moon cakes, mask, etc. With the stable performance and durable material of the machine, it is very popular for suppliers of vegetables, especially for supermarkets. It's also one type of food packaging machine. As the people have a higher living standard and the pace of life accelerates rapidly, the demand for vegetables is growing, during which the vegetable packaging equipment emerged and has a big market. So, do you want to know more? Welcome to contact us very soon!
What Types of Vegetable Packaging Equipment for Sale?
In Top (Henan) Packing Machinery Co., Ltd, there are mainly horizontal packaging machines and vacuum packing machines used for vegetable packing machines. Horizontal packing machine from us has 250-model, 320-model, 350-model, 450-model, and 600-model. While the vacuum packing machine has single chamber vacuum sealer, double chamber vacuum sealer, stretch film vacuum sealer, and external suction vacuum sealer. Besides, from the automation degree, it can be classified into fully automatic packing machines and semi-automatic packing machines for packing vegetables. A vacuum sealer is intended to vacuum the air from the package in order to extend the shelf life of packed vegetables, and a horizontal packing machine is to pack vegetables for insulating the microorganism and bacteria existing in the air to keep clean and hygiene, which are beneficial to people's health. So, are you interested? Sincerely welcome and get in touch with us as soon as possible!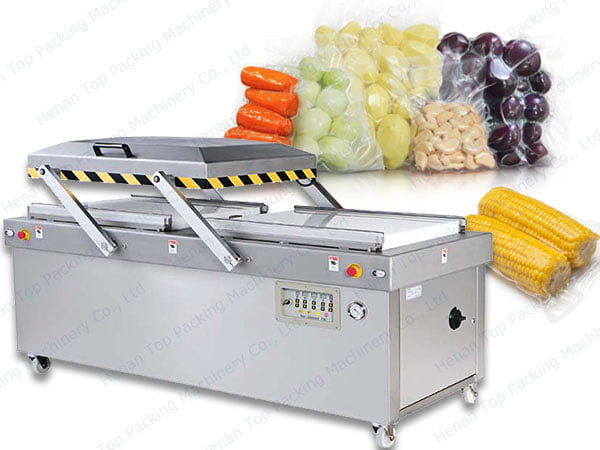 Characteristics of Vegetable Packing Machine
The machine adopts the durable material to build the structure – stainless steel, thus it makes the cleanness easier and has the long service life;
Easy to operation, good performance, low maintenance;
Manual is replaced by the mechanical, so that reduce the work force cost;
Improve the production efficiency, so as to bring the more profits;
Beautiful and optional bag styles available;
The function of vacuum sealer is to prolong the storage life of the packed product, and the pillow packing machine is to keep hygiene so that the satisfactory and safe product can be supplied;
Advanced technology, elegant appearance, high reputation;
OMS service is available.
Various Applications of Vegetable Packing Machine
Vegetable packaging machine has a wide array of applications, such as cucumber, cabbage, carrot, cauliflower, ouster beans, capsicum, French beans, mushrooms, onion, peas, potato, pumpkin, spring onions, tapioca, tomatoes, salad, etc. Vegetable packing machines and fruit packaging machines have a close relationship, as fruit can be packed by vegetable packing equipment, for example, apple, banana, watermelon, lemon, oranges, grapes, papaya, mango, pineapple, and others. It's also suitable for packing moon cake, towel, medicine, bread, biscuits, noodles, gloves, masks, etc. Besides, a vegetable vacuum packing machine can be called a fresh vegetable packaging machine owing to the function of keeping the freshness of the vacuum sealer. Also, it's a small vegetable packing machine which is convenient to transport and run. If you want to purchase this sort of machine, please contact us!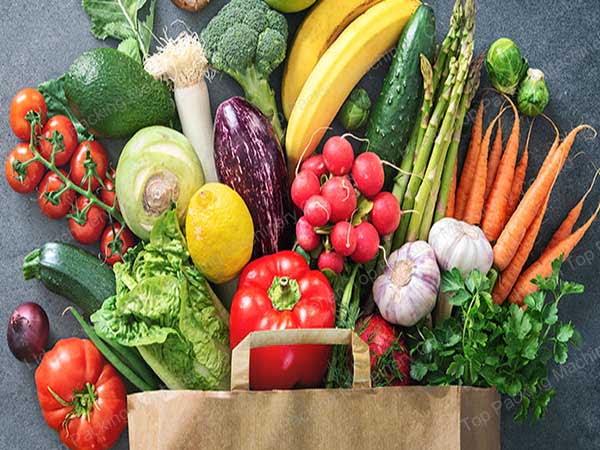 Why Choose Us as Vegetable Packing Machine Manufacturers and Suppliers?
We, Henan Top Packing Machinery Company, have the following strengths for your reference when choosing vegetable packing equipment. Firstly, the product development. Since the establishment of our enterprise and factory, we have accumulated rich professional knowledge and practical experience, forming distinctive packing system theory and brilliant solutions. Also, customized product is available based on your investment situation and actual needs. Secondly, staff quality. Our team has a strong staff with excellent business skills, also possessing the comprehensive ability of design and development, manufacturing, installation and commissioning, after-sales service, and many other aspects. Thirdly, after-sales service. We take advanced professional technology as well as excellent after-sales service to solve all the worries for customers. Without a doubt, we can achieve win-win cooperation if you choose us as the partner.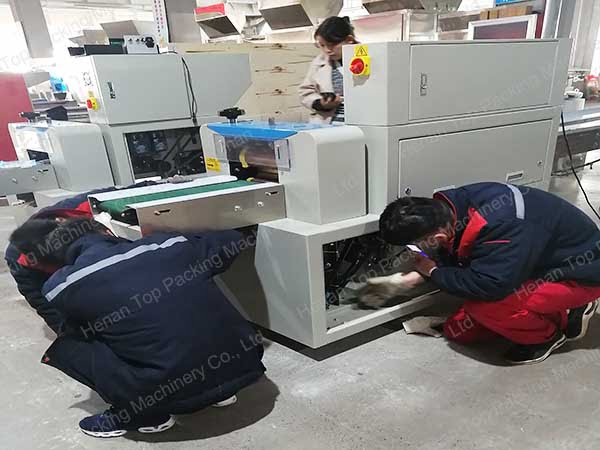 What is Vegetable Packing Machine Price?
Vegetable packaging machines cost is related to the machine function you choose, machine allocation, customization, and other factors. When you need to extend the storage period of vegetables, you can choose a manual vegetable packing machine, namely a semi-automatic vacuum sealer. However, if you want to keep vegetables fresh, a pillow packing machine will be your choice. Of course, the price differs in different packing machines. Also, the machine allocation has a great impact on the price. For example, a horizontal packing machine has an optional frequency converter motor and servo motor, of which, the servo motor is more expensive. In addition, the customization. In our company, the customized parts are including motor, date printer, sealing style, exhaust and inflatable devices, machine material, and others. To sum up, different collocation has different prices. Certainly, you still have doubts about other aspects, welcome to contact us!
Services from Us
Pre-Sale Service
We provide free pre-sale consultation service, technical support, liaison as well as other services.
We offer the machine sample, pictures, videos, detailed parameters for instance machine length, width and thickness. According to your actual requirements, we're going to recommend and detail which one is the most suitable machine for you and then give you solutions.
From the above, you can get quotation and machine model accurately and packaging information.
On-Sale Service
We provide the proper package and then delivery to the destination.
Installation and commissioning: when reaching the location, we guide your personnel through the video to install the machine and carry out commissioning or your staff is on the installation and commissioning as stated as the instructions. If anything, contact us immediately and we'll reply very soon.
After-Sale Service
After commissioning, we also offer 24 months warranty period and lifetime maintenance.
Safety Precautions
Never start the machine before make familiar with the correct operation methods and safety regulations.
Untrained and unauthorized persons are not allowed to operate this machine without a doubt.
Carefully read this manual and understand all of the content and requirement in this manual before using the machine.
The machine can be operated only until it is completely installed and properly adjusted.
Before starting the machine, make sure there is no tool or any other object on top of the machine.
Before switch off the power, never touch the inside of the machine or the electric equipment.
Never leave the running machine unattended; operators should not leave the working scope of the machine during the machine is running.
Do not use this machine in the environment other than the stipulated.
Basic Parameters of Vacuum Sealer
| | | |
| --- | --- | --- |
| Machine name | Single chamber vacuum packaging machine | Double chamber vacuum packaging machine |
| Voltage | 220V/50HZ | 380V/50HZ |
| Vacuum pump power | 0.9 kW | 1.5 kW |
| Sealing power | 0.6 kW | 1.17 kW |
| Absolute pressure | 0.1 pa | 0.1 pa |
| No. of sealing strips | 1 | 2 |
| Sealing strip size | 500 mm*10 mm*2 | 500 mm*10 mm*2 |
| Chamber material | 304 stainless steel | 304 stainless steel |
| Cover material | Organic glass | Organic glass |
| Chamber size | 525*520*130 mm | 525*520*130 mm |
| Machine size | 650*580*960 mm | 1260*605*960 mm |
| Machine weight | 80 kg | 150 kg |
Basic Parameters of Stretch Filcm Vacuum Sealer
| | |
| --- | --- |
| Upper film width | 396 |
| Under film width | 422 |
| Size of the room | 400*(200~400) |
| Packing speed | 90-110 bags/min |
| Machine weight | 1500 kg |
| Power | 10 kW |
| Dimension | 5.8*0.9*1.9 m |
| Note | OEM service is available. |
Basic Parameters of Pillow Packaging Machine
| | | | | |
| --- | --- | --- | --- | --- |
| Model | TH-250 | TH-350 | TH-450 | TH-600 |
| Film width | Max. 250 mm | Max. 350 mm | Max. 450 mm | Max. 600 mm |
| Bag length | 45-220 mm | 120-280 mm | 130-450 mm | 120-450 mm |
| Bag width | 30-110 mm | 50-160 mm | 50-80 mm | 50-180 mm |
| Product height | Max. 40 mm | Max. 60 mm | Max. 70 mm | Max. 70 mm |
| Packing speed | 40-330 bag/min | 40-230 bag/min | 30-180 bag/min | 30-180 bag/min |
| Power | 2.4 kW | 2.6 kW | 220V, 50/ 60HZ, 2.6KVA | 220V, 50/ 60HZ, 2.6KVA |
| Weight | 800 kg | 900 kg | 900 kg | 800 kg |
| Dimension | 3770*670*1450 mm | 4020*745*1450 mm | 4020*745*1450 mm | 3770*670*1450 mm |