Sugars need to be stored in dry and well-sealed conditions because they will absorb moisture. And it is usually shipped as break-bulk and bulk cargo. People often packaging sugar in paper or plastic bag or bottle to prevent them from being contaminated. Automatic sugar packing machine able to weigh and fill the sugar into bags made of film, then seal and cut with high accuracy and speed. You just add sugar into the feeder and set the volume of each bag on the intelligent touch screen, put the film on the machine, and the machine will start working, from granule to one bag, not only greatly saving your cost, but also safe, healthy, and efficient. This article will give you several useful tips to help you choose the best sugar pouch packing machine.
Types of sugar
Sugar is the generic name for sweet-tasting, soluble carbohydrates, which are widely used in various foods. It is an indispensable material for our daily life. Therefore, a great quantity of sugar packaging machines is needed in sugar packing industry. There are various types of sugars available on the market, such as granulated sugar, pearl sugar, demerara sugar, light brown sugar, caster sugar, sanding sugar, turbinado sugar, confectioners sugar, cane sugar, muscovado sugar, etc.
3 tips for choosing suitable sugar packaging machine to boost your business
If you are looking for a great sugar packing machine to highly benefit your business, you may want to know which type of it is best for your factory. There are actually several things we need to consider.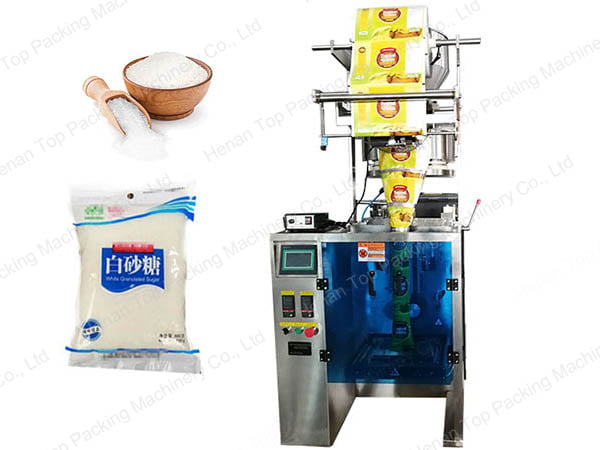 1. Packaging bag and bag material are important
Because different bags decide different sugar packing equipment you need, including bag size(small or large), bag form(stick bag, common bag or stand bag, etc), bag material. For example, if you just want to packaging serval grams in a bag, a sugar sachet packing machine is suitable for you, so a granule packing machine is available for you. On the contrary, if you need to packaging sugar from 1kg to 5kg or even more, obviously, a small sugar packing machine is not correct for you. And premade bag feeding machine or multihead weigher packing machine is available.
Besides, packaging material are various like paper, polyethylene/cellophane, alumunium foil/ polyester/polyethylene, nylon/poly ethylene, polyethylene/polyester, etc. Different packing materials are ideal for different using environment.
2. Essential to consider other support equipment to make a complete sugar manufacturing plant
Many applications require the product in the absence of degradation or no damage to the product to be delivered. Products damaged may be dissatisfied and unhealthy customers a serious impact. The bucket elevator is crucial in the packaging process of products, and must use the gentle handling of bucket elevator. It needs to increase a lift, and then into the large bulk sugar packing machine. Therefore, belt conveyor is also important. It can deliver bags packaged into the second packing procedure.
3. You should be clear about your capacity
If your daily production is very large, it is recommended to use a fully automatic sugar packing machine, efficient and cost-saving. If the production is small, then use small packaging machine. Henan Top Packing Machinery can provide you with the best packaging solution. kg sugar packing machine is a very popular way of packaging. The 1 kilogram or 3 kilogram sugar packaging that we see on the market shelves fall into this category. As a sugar bag packing machine, you can use an electronic weighing machine or a volumetric machine. Besides, you can use a screw system vertical filling machine to pack the powdered sugar. These machines are different from sticky machines in that they are single channel. It has slow speed, but high weight packing accuracy.
As a professional sugar packing machine manufacturer, Henan Top Packaging provides a complete range of standard or custom sugar packaging solutions to meet your different needs. Any questions? Ask our perfect expert for intimate and reliable business suggestions.