With the current development of the packing industry in modern manufacturing, the automation of the entire packaging process of various products including powder packaging has been widely implemented. Efficient powder packaging machines can create more profits for enterprises. Powder packaging machinery not only saves enterprises from complicated production processes but also improves production efficiency. This saves time and operating costs. Besides, automatic powder packaging machine helps manufacturers meet current needs and keep up with the fierce competition in the market. But as a purchaser, how to choose the right powder packaging equipment is deserved to consider. You should collect relevant information about the powder packaging machine. This guidance covers the core aspects of powder packing equipment.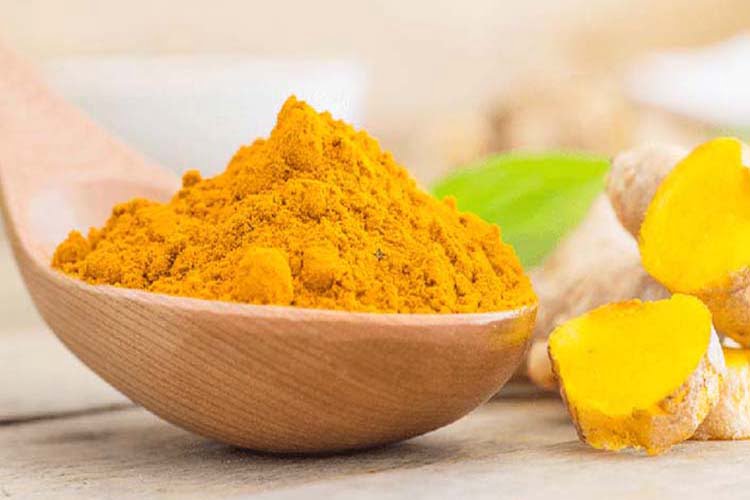 What's the powder packaging machine?
Powder packaging machine is a general term for packaging equipment for packaging powder products. It's generally packing powder into pouches, automatically completing weighing, bag making, filling, sealing, cutting, and counting. It is measured by screw feeding and equipped with a reliable photoelectric detection system. When the powder is packaged with film, a complete pattern can be obtained, which makes the package look more beautiful. Moreover, it has a fully automatic system with a user-friendly touch screen PLC. When you have high production requirements, using automatic powder packaging machinery can effectively package your powder products. Compared with manual, this is a very practical method.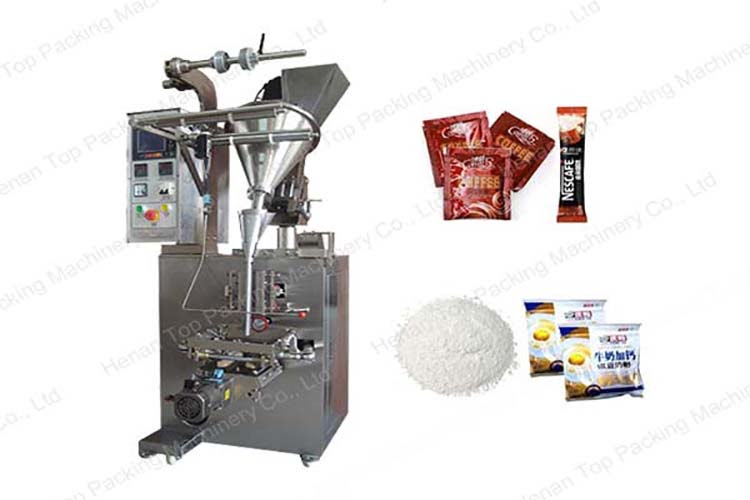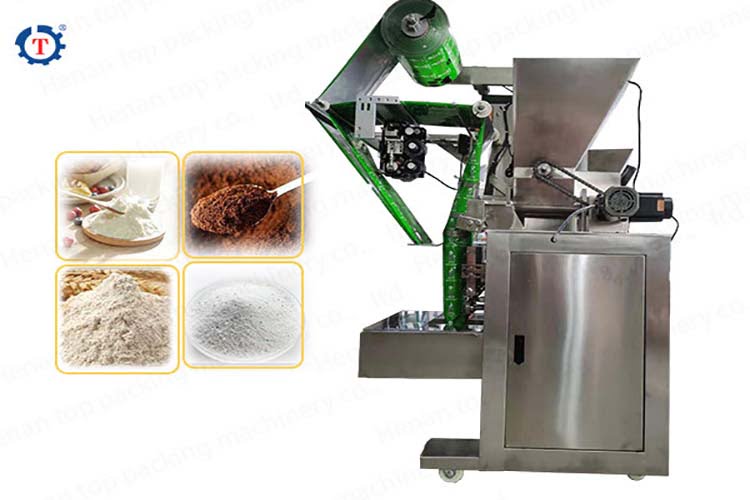 What products can the automatic powder packaging machine handle?
When it comes to powder packaging, you can use a powder packing machine for almost any type of powder product. This machine can be used under each manufacturing industry for the production process.
1. Food and beverage industry
It's suitable for convenient packaging of the following items: coffee powders, milk powder, flour, chili powder, powdered spices, protein powder, powdered sugar, cream, starch, carbonate, chocolate powder, additives, energy drinks, green tea, etc.
2. Cosmetics industry
Notable products in this category include baby powders, cosmetic detergents, henna powders.
3. Pharmaceutical industry
This type includes powdered drugs.
4. Chemical industry
Typical products in this field are powder coatings and other non-liquid powder materials. Such as pesticides, feeds, detergent, laundry powder, powder coatings, veterinary powders.
If products you want to pack belong to the above-mentioned items or others, contact us immediately and we'll offer the packing solutions to you as soon as possible.
What should be considered on buying powder packaging machine?
Now, in Henan Top Packing Machinery Co., Ltd, the powder is packaged into pouches, so we can call it pouch packaging machine. Based on this condition, take the following into consideration when buying the powder packaging equipment.
Firstly, the machine price. Because your profit should be your top priority, you should know the budget you allocate for the machine. After all, a fully automatic packaging machine is a huge investment.
Secondly, the machine quality. Our machines meet various standards and certifications, such as CE and ISO standards.
Thirdly, the machine production capacity. This parameter is different for each type of machine. Choose the speed that suits your industry's requirements.
The above tips are expected to help you.
Fully automatic powder packing equipment for sale
Due to full automation, during the operation progress, the machine hardly needs manual intervention. As a company following the market tendency, we provide the powder packaging machine by pushing obliquely, horizontally, and directly. Also, there is automatic lapel powder packaging machine. The first three have the functional PLC touch screen, having six languages, respectively Chinese, English, Arabic, Spanish, Russian, Korean. Apart from this, the first three have 320-model and 450-model on the basis of the film difference. The automatic lapel powder packing equipment has 420-model, 520-model, and 720-model. If you have a fully automatic packing machine, your operator only needs to enter the appropriate parameters in the machine, and the rest of the work will be completed. In fact, human resources are very small, which makes this type of machine very efficient and also reduces human errors caused by manual packaging.