Oil packing machine is very essential equipment for packaging various oil into pouches and bottles. Such as coconut oil, mustard oil, edible oil, cooking oil, engine oil, etc. This machine has advantages of compact structure, beautiful appearance, and convenient operation. Besides, oil pouch packing machine and oil bottle filling machine are available in our company. Being a trustworthy and honest enterprise, we also supply customization services. No matter what requirements you have, we can offer the good packing solution instead of perfunctory. So, if you're interested in the packing machines, leave your message and we'll be very glad to reply soon!
Excellent Oil Packaging Equipment for Sale
Generally speaking, the oil packaging machine has two classifications: oil pouch packing machine and oil bottle filling machine. Firstly, let's introduce oil pouch packaging equipment. It has two kinds: vertical liquid packing machine as well as lapel liquid packaging equipment. Both are automatic packing machines. And then let's move to the oil bottle filling machine. In fact, it usually works with the other machines. The entire packaging process includes unscrambling, filling, capping, and labeling, but the filling is only one part of the entire packaging process. Hence, we'll recommend the appropriate oil packaging machine on the basis of your demands. Contact us as soon as possible!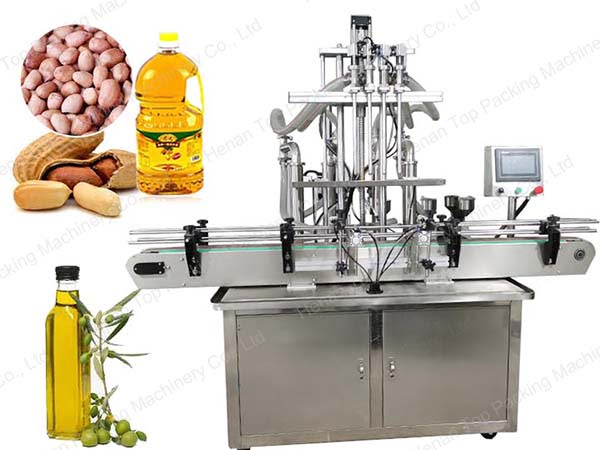 Types of Automatic Oil Pouch Packaging Machine
In our company, two types of optional are vertical liquid packaging machine and lapel liquid packing equipment. Undoubtedly, they're one of the pouch packaging machines. The first one is a very simple vertical packing equipment for oil, easy structure, and simple operation. While the second one is a combined packing machine, respectively the lapel machine and the pump. Its maximum packing weight reaches 2 kilograms. In addition, the lapel machine has 420-model, 520-model, and 720-model alternatives. The pump is a measurement for liquid volume. Also, the pump is responsible for feeding. Want to know more details? Don't hesitate to contact us very soon, and the new chapter of your business will get started.


Parameters of TH-420 Liquid Packing Machine
| | | | |
| --- | --- | --- | --- |
| Packing speed | 5-30 bag/min | Air consumption | 0.65 mpa |
| Bag length | 80-300 mm | Gas consumption | 0.3 m³/min |
| Bag width | 50-200 mm | Dimension | 1320 mm×950 mm×1360 mm |
| Power | 2.2 kW | Weight | 540 kg |
| Voltage | 220 V | Measuring range | 5-1000 ml |
Semi-automatic Single Head Filling Machine
Oil bottle packaging machine has a very significant part, filling oil into bottles. Thus, the filling machine plays an important role during the whole packaging progress. Single head filling machine, in other words, has one nozzle for filling. As a ranking top packing machine company, we, of course, have produced this machine. Its structure is composed of footswitch, barometer, jog automatic switch, emergency switch, cylinder, speed regulator, feed pipe, and outlet. It's very small, suitable for investors who have low budgets. Also, a production line covers unscrambler, filling machine, capping machine, and labeling machine. As a result, you can consider other machines for completing the production procedure when choosing a filling machine.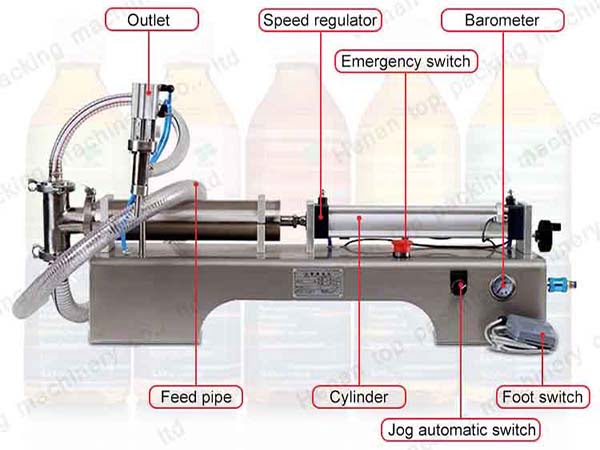 Single Head Filling Machine VS Multiple Nozzles Filling Machine
The biggest difference between single head filling machine and multiple nozzles filling machine is the outlet. As the name suggests, only one outlet is for single nozzle filling machine. Multiple outlets, however, are for multiple nozzles filling machine, at least 2 outlets. You can get the proper collocation based on your actual needs. Apart from this, the single nozzle filling machine is very small, placing horizontally in space. But the multi-head filling machine is much bigger and needs more space to place. Nevertheless, they're semi-automatic machines and only one part of the whole packing progress. They both belong to filling machines, no packaging function. Therefore, they should cooperate with other machines. Welcome to call us for further information.


What Advantages of Oil Packaging Machine?
The machine is made of stainless steel, durable material, easy to clean;
Reasonable design, simple operation, easy to understand;
Stable performance, low noise, cost-efficiency;
Runs stably, more friendly user operation, long service life;
Automatic oil pouch packaging equipment adopts PLC touch screen, microcomputer chips to control, automatically completing weighing, bag forming, filling, sealing and cutting;
Semi-automatic filling machine should cooperate with the unscrambler, capping machine and labeling machine, so as to complete the whole production line;
Oil packing machine is able to fill oil into pouches or bottles in accordance with your desire;
Customization service is available.
Applications of Oil Packaging Equipment
The oil packaging machine is definitely used for packing various oil, for example, coconut oil, mustard oil, edible oil, cooking oil, engine oil, peanut oil, soybean oil, canola oil, sesame oil, essential oil, lubricant oil, etc. It's a liquid packing machine without a doubt. So, it's not only for oil, but also for water, milk, soy milk, vinegar, soy sauce, wine, juice, beer, and other liquid. Different functional machines have a different allocation, that is why the price differs. What's most important, we support the customized machine you wish. Moreover, we also supply meat packing machine, food packing machine, vegetable packing machine, candy packing machine, and other packing machines. Are you looking for this sort of machine? Get in touch with us and we'll reply very soon!