Paste filling machine is one kind of quantitative filling machine, specially designed for paste filling. In a sense, this machine is semi automatic packing machine, and small horizontal paste filling machine. Usually suitable for food, such as sesame paste, peanut paste, ketchup, honey, cream, ginger paste, etc. Besides, parts to contact with the materials are stainless steel, ensuring food hygiene. Also, when the paste comes from the outlet, you can use bags or bottles to hold it. If you choose bags as the container, it can work with the sealer. While choosing bottles, the capping machine, labeling machine are the best choice to use with it. So, any doubts happening, you can get the good packing solutions through the professional advice offered by us.
What Types of Pate filling Equipment for Sale?
As mentioned in above, the paste filler is naturally quantitative filling machine. Hence, it has various filling ranges. It's the same as the liquid filling machine. The filling range varied from 3ml to 5000ml. Of course, the paste filling machine price differs along with the filling range. This machine is pneumatic machine, necessarily equipped with the air compressor on your own. This filling machine has two types of hoppers: u-shaped hopper and vertical hopper. Here's a little different. First of all, the u-shaped hopper is applied to product containing impurities to make it evenly mixed. Compared to the u-shaped hopper, the vertical hopper is more suitable for pure product, like honey. If you have a mess about this, you can contact us for seeking suggestions as soon as possible.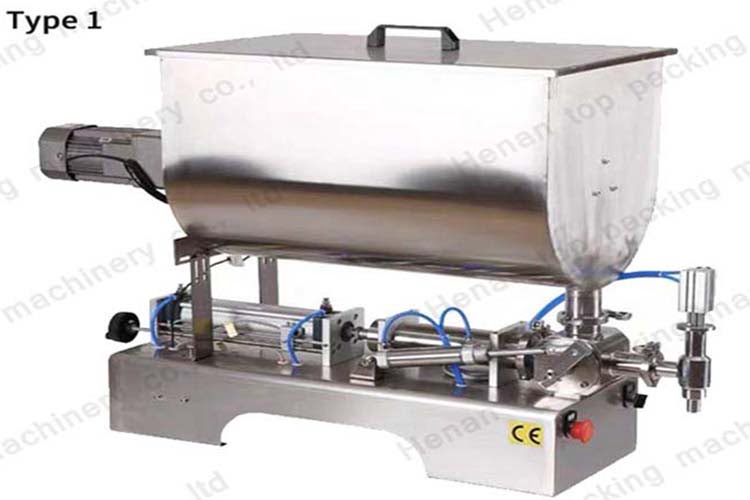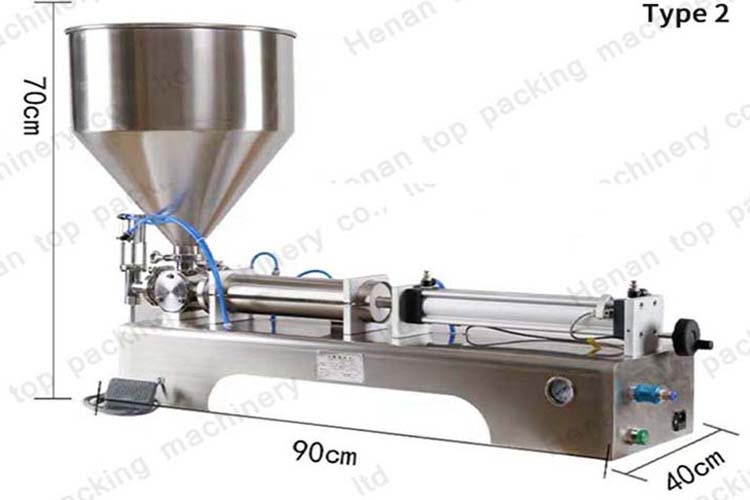 Basic Parameters of Horizontal Paste Filler
| | |
| --- | --- |
| Filling speed | 10-30 bottles/min |
| Power | 20w/50w |
| Power supply | 220V50Hz (110V can be customized) |
| Weight | 100kg |
| Working principle | Pneumatic(This machine is a pneumatic machine, you should prepare on your own) |
| Working method | The air compressor is used with 220v voltage |
Features of Paste Filler
Durable construction. The filling machine comes with the food grade stainless steel, resistant to corrosion, rust, alkali as well as acid;
Humanized design. Designed with a high quality anti-drip filling nozzle, accurate filling;
Easy to operate. The hand crank can adjust filling volume, simple and easy;
Large range of filling machines. The filling range is from 3ml to 5000ml;
High quality. High temperature resistance, 304 stainless steel for parts in contact with the materials;
Customization service is supported.
Great Paste Filling Machine Design
The machine structure is mixing hopper, motor, adjustment part, barometer, cylinder, foot switch, outlet. The adjustment hand crank is for adjusting the filling volume at will. The operation is very simple and easy to understand. The cylinder adopts the scale measurement for accurate filling. The outlet is the anti-drip filling nozzle, made of stainless steel, accurate filling without clogging. We can produce single head or double head outlet for your needs. Thus, The machine can be single-head , or double-head paste filler. For the hopper, we can add the function of mixing and heating. The heating function means that the hopper should be double layers, with heat conduction in the middle. Moreover, the customization service is available.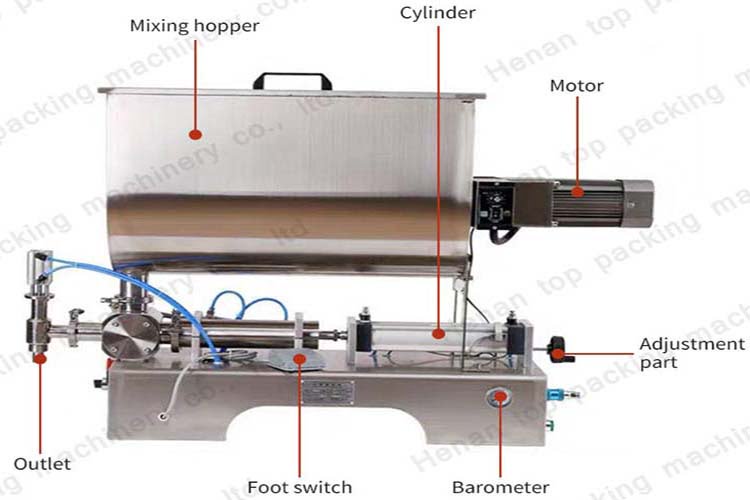 Wide Applications of Paste Filler
Paste filler is applicable to thick products. For example, honey, cream, aloe vera gel, tahini, salad dressing, cooking oil, cosmetics, ketchup, glue, etc. It has jog automatic switch. Being a ranking top packing machine manufacturer and supplier, we have accumulated experiences for more than twenty years. We not only provide the super quality machines to you but also offer the considerate after-sales service. In addition, during the procurement, you can enjoy the professional advice from our company. In Henan Top Packing Machine Company, we also supply the yogurt cup filling machine, candy packing machine, multi-head weigher packing machine, etc. Welcome to inquiry for further information!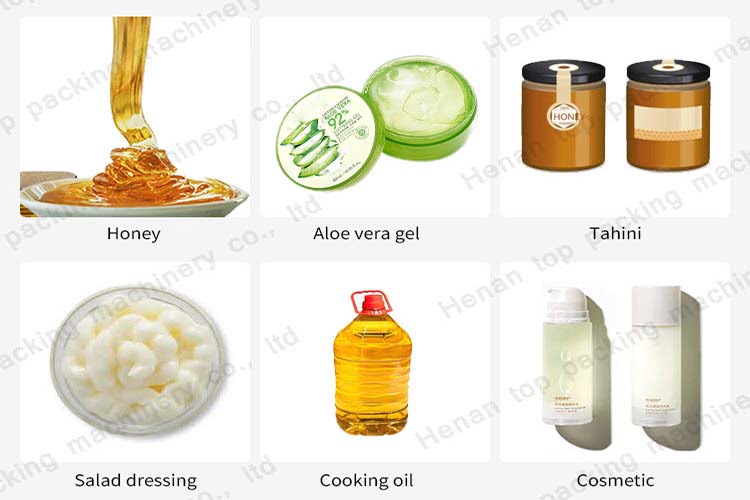 Liquid Filling Machine VS Paste Filling Machine
Differences
Appearances. Generally, paste filler has the hopper, but liquid filler doesn't.
Rotary valve before outlet. Paste filler has cylindrical rotary valve while liquid filler has trapezoidal rotary valve.
Applications. Paste filler is always for thick products like sesame paste, peanut paste, etc. Liquid filler is for products with good fluidity, like water, milk, etc.
Similarities
Filling range. Both have the very large filling range of 3-5000ml.
Automation. They're semi automatic filling machines.
Outlet. They can be produced as single head or double head, as the customer wish.
Driving force. Both are pneumatic machines, having to collocate with the air compressor.
Occupying space. Because they're horizontal and small machines, small space is enough for them to place.