Yogurt cup filling machine is an automatic rotary cup filling and sealing machine for liquid and paste. The equipment body is made of stainless steel, meeting hygiene requirements, convenient to clean. It's equipped with a rotary steel plate with cup molds. The rotary cup filling machine can automatically finish cup falling, material filling, cup cover placing, cup sealing, and cup output. With the industry's advanced technology, the machine adopts a well-known brand control system and pneumatic components. It has the characteristics of low failure rate, stable operation, and long service life.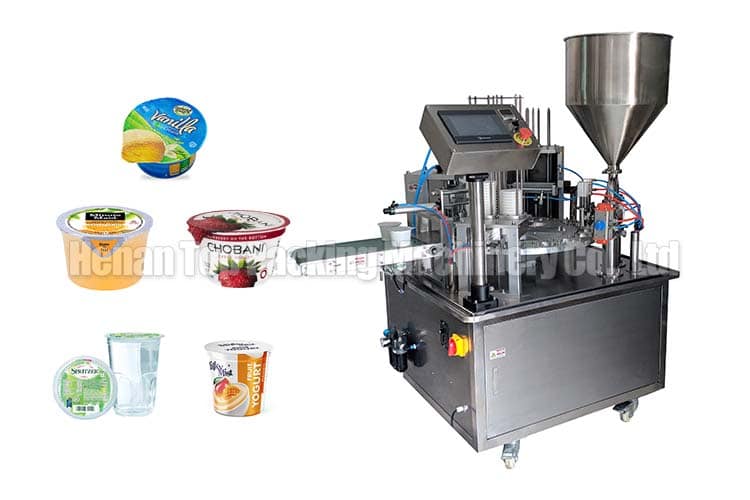 Main structure of the cup filling and sealing machine
The yogurt cup filler consists of the mold for cup placing, cup placing device, filling system, cup cover placing device, sealing system, and cup output system. The mold is customized according to the shape and size of the cup. There is a single-cup and double-cup type for choosing. And the double cups type works more efficiently. The cup falling system is driven by pneumatic power. When the cup mold is under the cup falling device, it will fall cup into the mold for filling. The filling system adopts a piston quantitative filling system, the filling volume can be adjusted. Some common filling pumps optional include 1-10ml, 10-100ml, 5-50ml, 50-50ml, 3-30ml, 30-300ml, etc. Its sealing part is suitable for pre-made cup covers or plastic film sealing covers.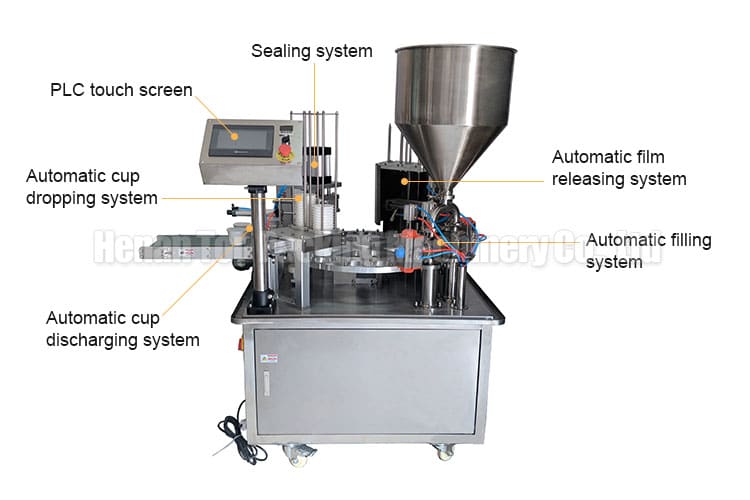 How does the yogurt cup filler work?
Features of the cup filling sealing machine
Compact structure, high automation, advanced technology, simple operation
The body of the yogurt cup filling machine is made of stainless steel, which is stable and durable.
Automatically feeding cup, filling, feeding cup cover, sealing, and conveying the final product.
Heat sealing effect is beautiful and firm, uneasy to leak from the cup.
Equipped with a sensor for detecting, it will not fill material if there is no cup under the filling nozzle.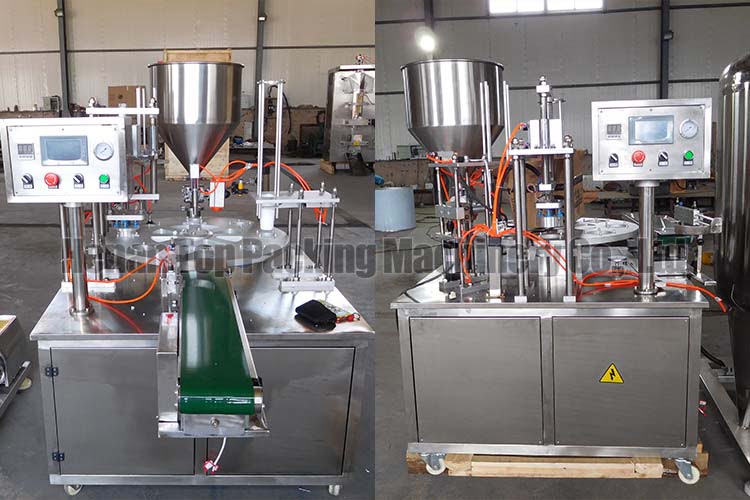 What material can package in cup by automatic cup filler?
The yogurt cup filling machine is widely applied to various kinds of liquid and paste in cups, such as yogurt, jelly, ice cream, coffee cream, juice, jam, sauce, beef sauce, chocolate sauce, chili sauce, peanut butter, etc.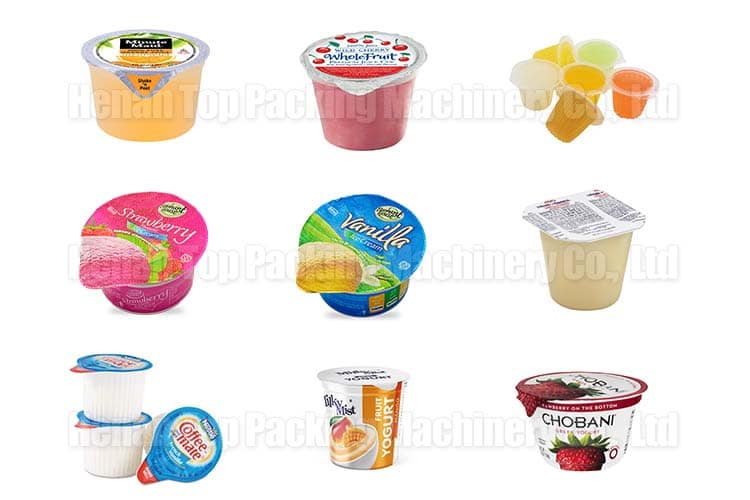 How about the automatic cup filling sealing machine price?
The price of this rotary cup filling and sealing machine is closely related to its production speed, filling volume, and configuration. Double cup filler can produce nearly twice the single-cup type, and the price of double cup mold filler is higher. The filling volume is controlled by the liquid and paste pump. The bigger the liquid paste filling pump, the price is higher. The yogurt cup filling machine adopts the well-known fittings brands. It means the equipment requires more cost. Besides, there are some other elements, such as freight, the manufacturing material, supporting machine, and so on.
Technical data of yogurt cup filling machine
| | |
| --- | --- |
| Model | KIS-1800 |
| Power | 220V 1200W |
| Packaging speed | 800-900cups/h (single outlet) 1600-1800cups/h(double outlet) |
| Air pressure | 0.5-0.75Mpa |
| Maximum air consumption | 0.45m3/m |
| Dimension | 100*80*120cm |
| Weight | 350kg |