Quantitative filling machine is a large capacity filling machine for various materials, such as granules, powder, dried goods, hardware parts, etc. This machine has the intelligent design, simple operation, saving time and effort. It uses the microcomputer control of optical technology, achieving high accuracy and fast speed. At the same time, it's of good quality. This large quantitative filler has the high capacity, considered as a sort of multifunctional packing machine. Besides, it has the adjustable discharge port. According to the size of the holding container, it can be adjusted. That means that it's very convenient and suitable for containers of different calibers. If you're interested, please get in touch with us very soon!
Various Types of Quantitative Filling Equipment for Sale
Because the machines have large filling ranges, the machine model is in the name of its ultimate quantity. The models are DL-999, DL-1500, DL-3000, DL-5000, DL-9999, DL-15000. From these models, we can see that the range is very large. It can automatically weigh and fill, very convenient. If errors appear, the quantitative filler can realize the automatic error calibration. When discharging, it's linear vibration. Moreover, it has high precision sensor. We also can customize the machines in accordance with your demands. You can contact us at any time, and we'll provide professional consultation to solve your inquiries.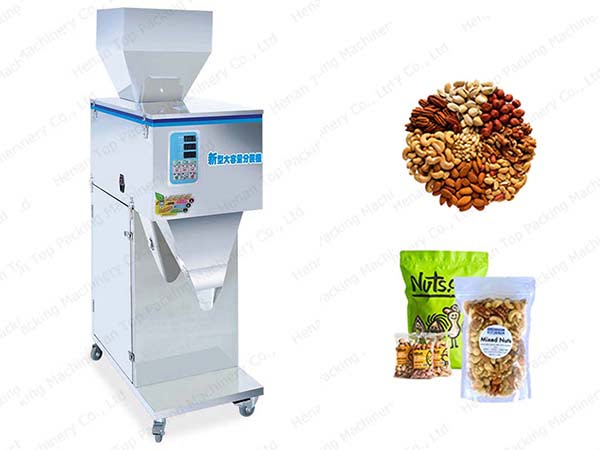 Technical Parameters of Quantitative Filler
| | | | | |
| --- | --- | --- | --- | --- |
| Model | Machine size | Measuring range | Power | Deviation |
| DL-999 | 53X34X127cm | 10g-999g | 400W | ±2g |
| DL-1500 | 53X34X127cm | 10g-1500g | 400W | ±2g |
| DL-3000 | 37X58X135cm | 20g-3000g | 430W | ±2g |
| DL-5000 | 37X58X148cm | 50g-5000g | 450W | ±3g |
| DL-9999 | 58X57X156cm | 100g-9999g | 500W | ±5g |
| DL-15000 | 60X60X170cm | 0.5kg-15kg | 550W | ±10g |
Features of Quantitative Filler
The contact material parts are all stainless steel, no contaminated material, so that ensuring the material hygiene;
This machine has double shock structure, so it's running smoothly, low noise;
On the digital display control panel, it shows filling weight, required time and numbers of packages;
Oblique throwing feeding, do not squeeze the material damage, especially for fragile materials packaging;
Microcomputer control self-energy, so that more precise and accurate filling, fast, fully automated filling process;
Minimal power, energy conservation;
Small size, light weight;
Set weighing excessive alarm.
Design of Large Capacity Filling Machine
The machine has stainless steel support as well as the universal wheel. It's composed of several vital parts, respectively hopper, material valve, inspection window, control panel, material outlet.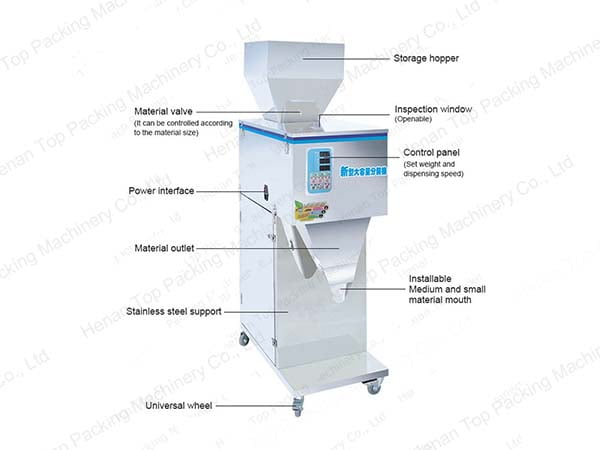 Hopper: stainless steel inlet, loading material and saving time.
Material valve: adjusting based on the size of the material.
Inspection window: transparent design, easy to observe material working.
Control panel: original intelligent computer motherboard, high precision, long service life, easy operation, flexible, convenient and efficient.
Material outlet: discharging, at the same time protecting materials.
Applications of Quantitative Filling Machine
This machine is suitable for powder, granules, hardware, etc. For example, fine powder, flour, milk powder, walls powder, chemical powder, edible powder, coffee powder, pill particles, tea, herbs, seeds, food, sesame seeds, grains, wolfberry, rice, salt, spices, beans, coffee beans, nuts, snacks, dog food, chemical components, electronic components, hardware components, etc. Not only the application range is wide, but the filling weight span is also very large. This machine is very economical. And the machine only occupies the small space, the container can also be selected on the basis of your needs. Compared to granule packing machine and powder packing machine, it's a multifunctional packing machine.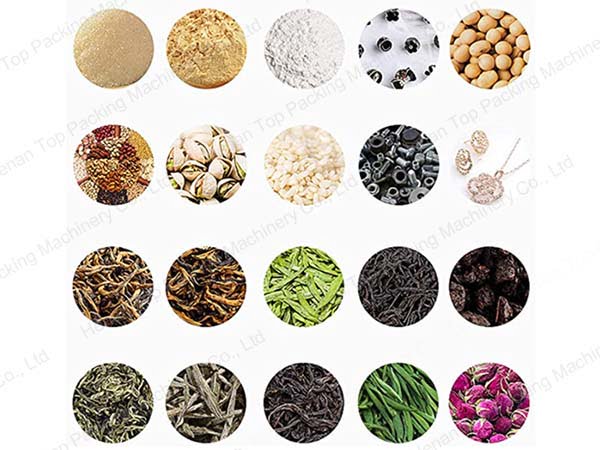 Differences from Liquid Filling Machine
As a strong packaging machine company, our company's liquid filling machine is also quantitative filling. Of course, there are many differences between the two, the following are some of them.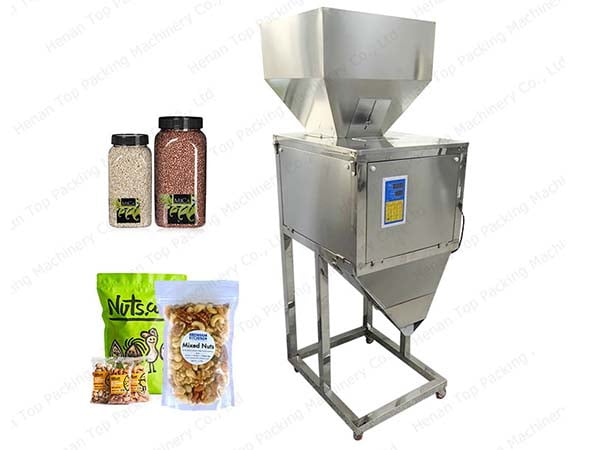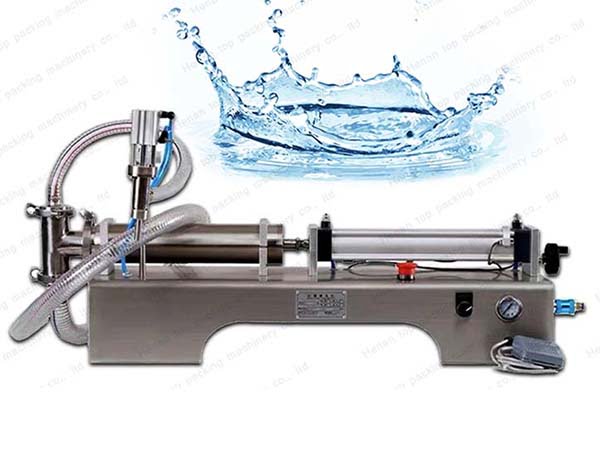 Applications
This machine can only be filling dried and good mobility products, but the liquid filling machine is for filling moist and big viscosity, greasy and poor mobility of products.
Material inlet
This quantitative filling machine has the stainless steel hopper, but the liquid filling machine(single head) has a pipe to connect with the liquid material.
Material outlet
The machine in this article only has one outlet, while the liquid filling machine can have one or multiple nozzles to work.