Water packing machine is an ideal machine for packing water, suitable for various liquid materials, such as pure water, soy milk, vinegar, soy sauce, etc. With the super quality and high efficiency, the water packaging machine is widely used due to the necessary water in daily life. The machines in our company, Henan Top Packing Machinery Co., Ltd, are automatic packing machines which are equipped with the good performance and reasonable price. For the water packaging machine, from the views of packed water solutions, there are sachet water packaging machines and water bottle packing machines. These two types are usually seen everywhere. If you are looking for reliable water packing machine, welcome to contact us for more information!
What Kind of Water Packing Machine for Sale?
Based on the packed solutions, there are two types: water pouch packing machine and water bottle packing machine. For the water packing machine in a pouch, two options here are available from us. One is a very simple vertical liquid packaging machine, whose structure and performance have gained a very high reputation after long-term test; the other is an automatic lapel liquid packing machine, whose structure is a combination of the lapel machine and the pump. The lapel machine is a packing system that can automatically form bags, pack, sealing, and cutting, and the pump is a measuring standard for liquid volume and time. For water bottle packaging machines, it's commonly used in the production line, together with the unscrambler, capping machine, and labeling machine. Normally, we call it a filling machine. Want to know more about water packing equipment? Get in touch with us now!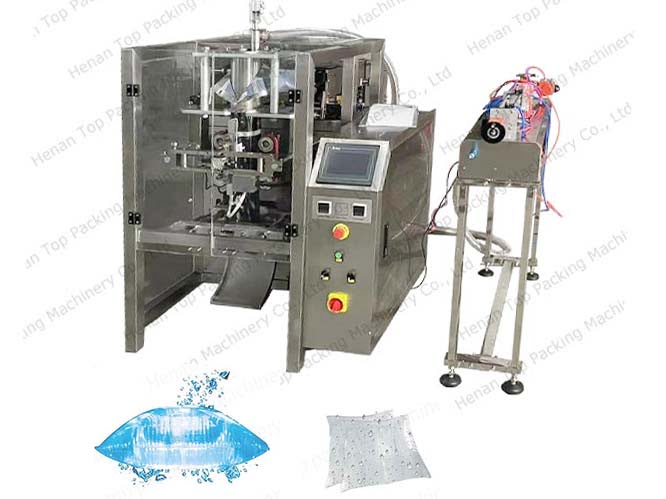 What Areas for Water Packing Machine are Applicable?
The water packing machine can be deemed as a liquid packing machine in nature, having a variety of applications for liquid materials, like purified water, milk, soy milk, milk tea, mineral water, fruit juice, beverage, soy sauce, vinegar, wine, pesticide, shampoo, bath lotion, facial cream, ingredient oil, fruit sauce, tomato ketchup, honey, etc. The packaging material of the pouch packing machine is heat sealable plastic film such as polyethylene/PE. Various bag styles are available for you to make choice based on your actual needs. We're always insisting on the principle of customer first, quality first. Besides, the customization service is available. Looking forward to your reply!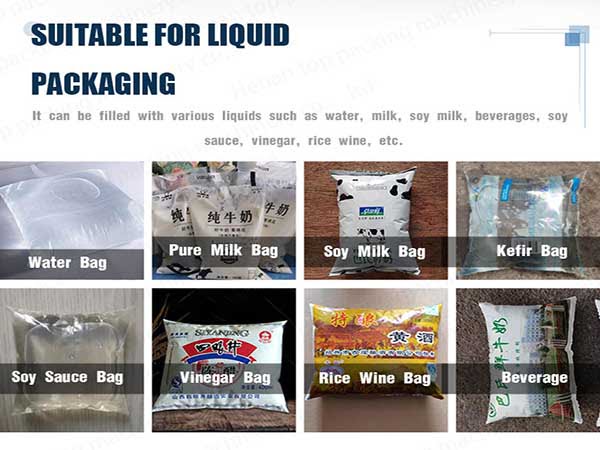 Features of Water Packing Machine
The complete machine makes up the stainless steel structure, which achieves the international standard;
The machine has compact structure, perfect control system, easy operation and high degree of automation;
The machine has the function of self-diagnosing and error-pointing, more intelligent to operate;
The whole set adopts to use the superior components, stable quality, low noise, low failure rate and long service life;
The progress of bag forming can realize the photoelectric automatic detection, positioning, sealing and cutting, to ensure the integrity of bag making pattern;
Unique and good appearance, advanced technology, durable material;
Excellent after-sales services, fast installation and low maintenance.
Why Choose Us from Various Water Packaging Equipment Manufacturers?
We, Henan Top Packing Machinery Co., Ltd, have nearly thirty years of rich experience in manufacturing and supplying the water packing machine. And we will do the test and debug all the machines in good condition and record the video for your inspection. The after-sales services offered by us are considerate, and you will be in comfort and ease during the cooperating process. Moreover, there is also a customization service. Like ribbon code printer, bag former, sealing style, and others, all are optional. From the above, it's believed that you can buy the great quality and valuable products from our company, which benefits both.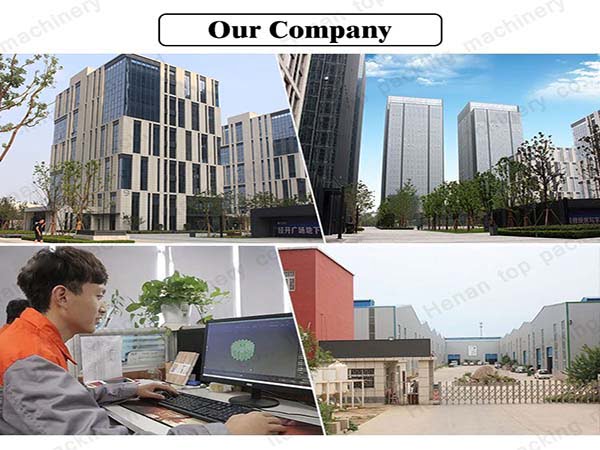 What Affects the Water Packaging Machine Price?
Water packing machine price has been influenced by a lot of factors, mainly as described below: firstly, the machine material is composed of stainless steel and its strengths are anti-corrosion and high-temperature resistance, but the price is a litter higher than the common material; secondly, different machines have the different functions. Generally speaking, the machine has been with the common functions. Definitely, the price will change along with the more functions required by you. Thirdly, one machine has one packing bag style. However, there are several bag styles alternative. You can do your best choice according to your request. Price differs in diverse bag styles. The above has a great impact on the water packing equipment cost. If you want to learn more, please message us!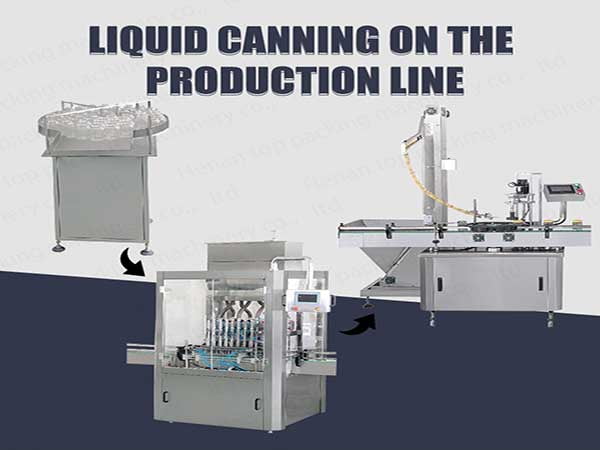 How to Select the Suitable Water Packing Equipment?
Taking the following into consideration, you can choose the most suitable water packing machine. Based on the example of mineral water, firstly, figure out what types you want to pack. We have a water sachet packaging machine and a water bottle packing machine. Therefore, you can consider carefully between mineral water pouch packing machine and mineral water bottle packing machine. Secondly, combine with your budget. it's very important in the process of purchasing. Mineral water has increasing popularity among the markets owing to the improvement of the life quality, which can be a factor to decide how much you want to invest. Thirdly, the environment to place the machine. With regard to mineral water, there is a series of strict environmental requirements. It closely concerns people's health. From our experience, it's helpful for you to choose the machine.
Quality Assurance
The quality plays a significantly important role in producing the machine, the same as water packing machine. Quality assurance is a part of quality control, devoted to providing the trust that quality demands can be met. A strict quality control system has been established with the growth of the enterprise. The primary purpose of quality assurance is to make users ensure that the products meet the specified quality needs, thus, users can trust the machines from us. We have already gained the CE, ISO certificates. What's more, we take our reputation very seriously, become partners with the well-known brands, and quality first is our consistent principle. You can rest assured of the quality of our products.
Package and Transportation of Water Packaging Machine
When arranging one packing machine, including a water packing machine, there are details in your offer. Therefore, we need to confirm the dimension of the package. Usually, before packing, the machine is wrapped in plastic film to prevent moisture from the sea. Then the machine is put in a wooden case that is free of fumigation, lined with metal wire if necessary. About transportation, we are located in a very convenient place, traffic hub of China, no matter how transported by air, water or railway, which creates profitable conditions. Leave us your information and we will send you the best price!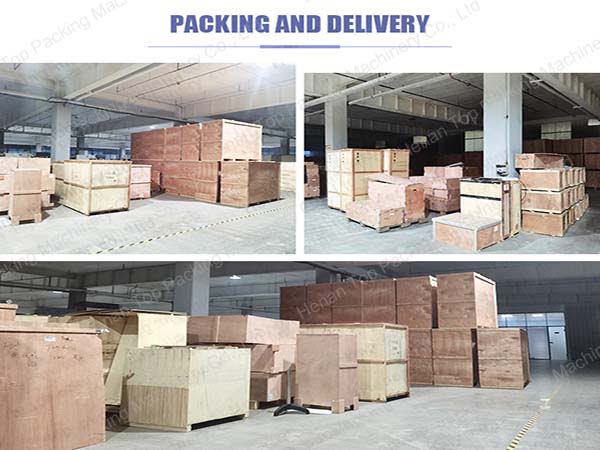 Basic Parameters of TH-420 Liquid Packing Machine
| | | | |
| --- | --- | --- | --- |
| Packing speed | 5-30 bag/min | Air consumption | 0.65 mpa |
| Bag length | 80-300 mm | Gas consumption | 0.3 m³/min |
| Bag width | 50-200 mm | Dimension | 1320 mm×950 mm×1360 mm |
| Power | 2.2 kW | Weight | 540 kg |
| Voltage | 220 V | Measuring range | 5-1000 ml |
Contact Us for the Free Quotation
Henan Top Packing Machinery Co., Ltd is reliable and trustworthy. Our company has a professional team with almost thirty-year history which brings a great wealth of experience, so that we provide not only the liquid packing machine, but also paste packing machine, pillow packing machine, granule packing machine, powder packing machine, tea bag packing machine, etc. As a manufacturer and supplier, we have been deeply in this packing machine industry for years. You're supposed to have faith in our products. If you want to boost your business and more interests and have some requirements you want, please let us know and have a deep talk.