Chips packing machine is used for packing the materials or the products that are in chips and the flakes types, also called potato chips packing machine. It's a sort of food packaging machine and snacks packing machine, too. Because of its quick packaging speed and product elegant appearance bringing better sales, it's widely used in the chips manufacturers and suppliers. We have an automatic packaging machine for packing chips, among which, several packing machines are commonly used, such as a pillow packing machine and chain packing machine. As one of the most popular snacks in the world, in fact, it holds a large scale in the snacks markets. If now you're on this business or want to start this business, welcome to contact us to learn more information as soon as possible!
Types of Chips Packing Machine for Sale
In our company, Henan Top Packing Machinery Co., Ltd, there is granule packing machine and pillow packing machines available packing machines for chips for sale. To illustrate detailly, for granule packing machines, 320-model, 450-model, chain packing machine (420-model), and multi-head weigher packing machine are usually shown. For the horizontal packaging machine, 250-model, 320-model, 350-model, 450-model, and 600-model are also commonly displayed. All in all, many optional packing machines here are to get the proper one for you. Besides, customization service is supported to meet your various requirements. Meanwhile, this solution can offer you a variety of machine collocation to achieve your goals. Certainly, with reference to your actual requests, you can choose what suits your business. We'll provide as much as we can!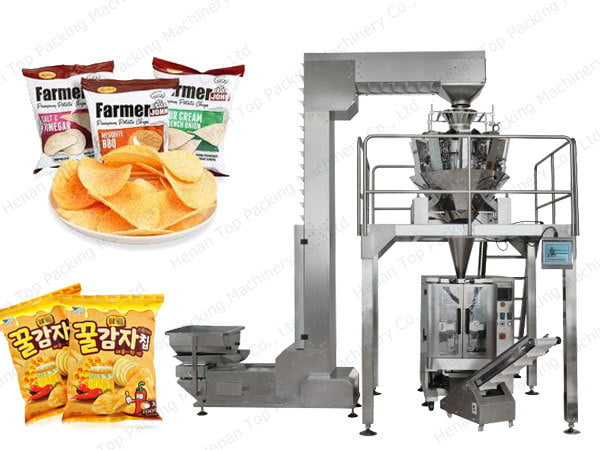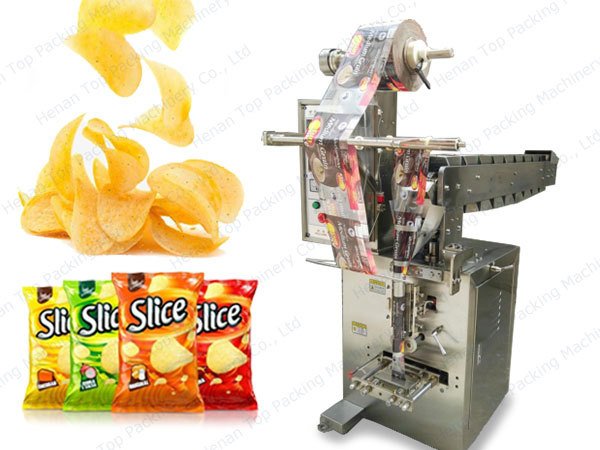 Features and Properties of Chips Packing Machine
New and good design, beautiful appearance, reasonable structure, advanced technology;
Stainless steel housing is applied to the machine, that is why it'easy to clean and maintain;
The machine runs smoothly, has low noise and long service life;
The photoelectric eye-tracking system is adopted for positioning accurately and to ensure the pattern is complete and attractive;
PLC control screen. Bag length, packing volume and speed can be adjusted on the screen. The user operate it directly;
It can automatically finish weighing, bag making, filling, sealing, cutting, and counting;
Packing material: PET/PE, PET/aluminizing/PE, PET/Al foil/PE, paper/PE, nylon and other heat-sealing compound material;
OMS service is available.
Structure Details of Chips Packing Machine
Taking the multi-head weigher packing machine as an example, its structure is composed of a Z-type bucket elevator, multi-head weigher, working platform, lapel machine, and discharge conveyor.
type bucket elevator: used together with the electronic measuring scale, the material level is controlled by the control circuit, so as to realize the function of automatic feeding and stopping; stainless steel and carbon steel are available to build the structure, you can choose as you like.
Multi-head weigher: sensor with high precision; according to the material characteristic, slightly adjust the opening and closing speed of bucket door; servo motor with advantages of quiet running, stable performance, and long service life. In addition, customization is available.
Working platform: firm, beautiful, anti-slid platform, guardrails around, practical and safe.
Lapel machine: programmable system, large touch screen; servo film transport system, accurately positioning; fully automatic weighing, filling, bag forming, date printing, and discharging; bag styles are alternative.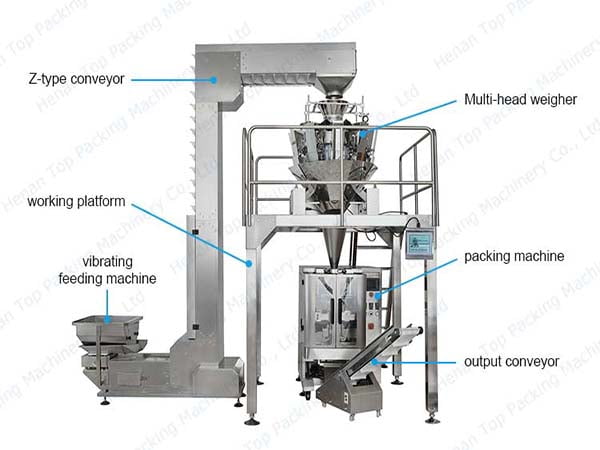 What are Applications of Chips Packing Machine?
Potato chips packaging machine is not only for potato chips, Kurkure chips, banana chips, apple slice, yam chips, but also suitable for the package of high precision and fragile bulk objects, such as puffed food, crispy rice, rice crust, melon seeds, jelly, candy, pistachio, dumpling, Tangyuan, chocolate, hardware, medicinal materials, betel nut, soft candy, biscuit, French fries, popcorn, small fried dough twist, snacks called cat's ears, Mimi strips, onion rings, etc. in various bags. Chips packing machine is with the strengths of providing a clean and hygienic environment for people to enjoy the snacks, no need extra worries. Because our machine is not manual chips packing machine, which vastly improves the working efficiency. What kind of materials do you want to pack? Contact us and we'll give you excellent solutions very soon!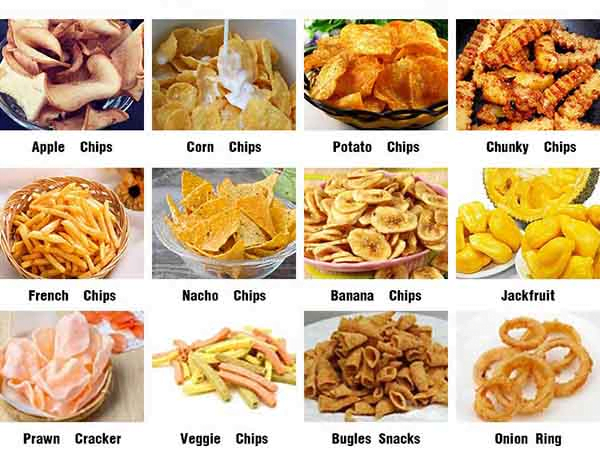 What is Attractive for You to Choose Potato Chips Packing Machine Manufacturers and Suppliers?
Assuming you are a distributor when you choose manufacturers and suppliers of the packaging machine for chips, the following should be taken into consideration: firstly, the production strength. Similarly, our company, Top (Henan) Packing Machinery Co., Ltd, a comprehensive packaging solution provider with independent research and development, production, sales, and service, the factory ownership belongs to us; secondly, the product quality. A complete set of quality control systems is applied to the whole process of production in our factory, strictly monitoring every step and making sure the product is compatible with the standards stipulated in CE and ISO so that our machines have CE and ISO certificates; thirdly, after-sale service. Undoubtedly, 24 months warranty period and lifetime maintenance. For any questions about the product, please contact our customer service team soon. We provide adequate customer support in time. To conclude, the above is practical advice for your reference.
How Does Chips Packing Machine Price Affect?
Potato chip packaging machine price is influenced by the machine models, delivery period, freight, and other factors. But the price differs in different machine models. Like the lapel machine, respectively 420-model, 520-model, and 720-model based on the different films, among which, 720-model is the most expensive, but the film length and width is maximum, 520-model is secondary and 420-model is ranking last. The delivery period is a necessary point to consider while the agent is planning to order machines. In our company, generally, it's not more than 25 days. Besides, the freight also has an impact on the price. We're in a good geographic position, located in Zhengzhou city, the central region, and transportation hub of China, therefore it's convenient by railway, air, or water. Of course, other factors affect the price, like quality. The better quality, the higher price. Welcome to us for the inquiry very soon!
Basic Parameters of TZ-520 Multi-head Weigher Packing Machine
| | | | |
| --- | --- | --- | --- |
| Packing speed | 30-60 bag/min | Max width of roll film | 430 mm |
| Bag length | 30-280 mm | Power voltage | AC220V / AC380V |
| Max diameter of film scroll | ≤Φ 350 mm | Deadweight of machine | 400 kg |
| Power consumption | 1.2 kW | Dimension of outer packing | 870*1350*1850 mm |
| The thickness of roll film | 0.03-0.10 mm | Measuring range | 100-1000 ml |
Basic Parameters of TH-420 Chain Granule Packaging Machine
| | | | |
| --- | --- | --- | --- |
| Packing speed | 30-60 bag/min | Max width of roll film | 430 mm |
| Bag length | 30-280 mm | Power voltage | AC220V / AC380V |
| Max diameter of film scroll | ≤Φ 350 mm | Deadweight of machine | 400 kg |
| Power consumption | 1.2 kW | Dimension of outer packing | 870*1350*1850 mm |
| The thickness of roll film | 0.03-0.10 mm | Packing range | 100-1000 ml |
Basic Parameters of Vertical Granule Packaging Equipment
| | | |
| --- | --- | --- |
| Model | TH-320 | TH-450 |
| Filling range | 22-220 g | 100-1000 g |
| Packing style/bag style | Back-seal | Back seal/3-side seal |
| Packing speed | 32-72 bag/min or 50-100 bag/min | 20-80 bags/min |
| Bag length | 30-180 mm | 30-180 mm adjust |
| Bag width | 20-145 mm (replace bag former) | 20-200 mm |
| Dimension | 650*1050*1950 mm | 750*750*2100 mm |
| Carton size | 1100*750*1820 mm | / |
| Weight | 250 kg | 420 kg |
| Power consumption | 1.8 kW | 2.2 kW |
| Material | Stainless steel | Stainless steel |
| Note | Customization service is available | Customization service is available |
FAQ
Q: Are you a manufacturer or trading company of chip packing machines?
A: We are an enterprise integrating production and sales with experience of almost thirty years.
Q: How long does it take to deliver during the process?
A: Generally for 7 days, if the machine is in stock, we'll arrange delivery immediately. Customized products are depending on the customer's requirements, usually not more than 25 days.
Q: How to enjoy the after-sale service during the process of using the machine?
A: We have professional installation and commissioning engineers who have many years of experience in debugging with deeply recognized by customers. We also provide installation and commissioning services. At the same time, we will guide your workers directly through the video.
Want to Be a Distributor?
Henan Top Packing Machinery Co., Ltd is a comprehensive company to provide a wide range of packing machines, such as chips packing machine, pillow packing machine, water packing machine, coffee packaging machine, vacuum sealer, etc. Moreover, the customization service is available, which offers a good solution to produce the packing machine complying with your actual needs. With the stable performance and long service life, our packing machines are favorably received by the worldwide customers. Compared to the other packing machines, we have a competitive price and superior quality. If you are interested in the packing machines and want to learn more details, please get in touch with us as soon as possible and we'll reply to you very soon!