Reciprocating pillow type packing machine is a full servo packing machine. That's because it has three servo motors. Definitely, it has differences from the normal pillow packaging machine. Firstly, the blade. Reciprocating pillow type packing machine has up and down blades. Secondly, bag style. This machine is equipped with the gusset bag device. Thus, the finished products have the gusset. Thirdly, the conveying. This machine is conveying by the belt, while the normal packing machine is using the chain to convey. Being a customer who desired to purchase the machine, you can contact us and send the details, we'll provide great packing solutions very soon!
Types of Reciprocating Pillow Type Packing Machine for Sale
In Henan Top Packing Machine Co., Ltd, there are two types for sale: HS-450W and HS-600W. It's classified according to the film width. And the maximum product height is 10cm. The distinguished point is the cover for the sealing and cutting area. To get more information, so now detail its structure. The machine structure involves conveyor belt, film feeding device, bag maker, touch screen, sealing and cutting device, and discharge port. The design is reasonable, and easy to understand. Hence, it's very friendly for users. Of course, it has film roller in the upper or lower location. You can choose your preference. If you have no clue, welcome to get in touch with us!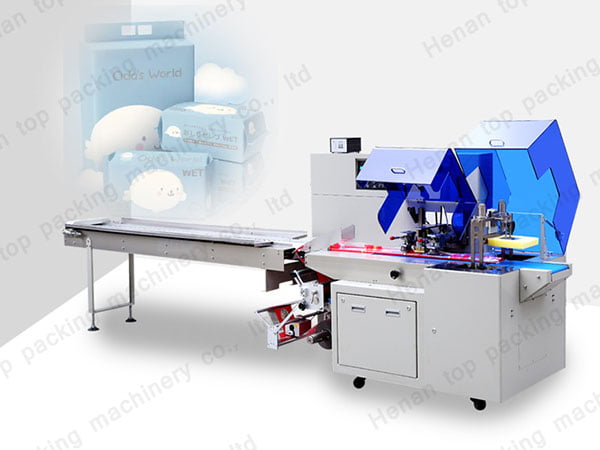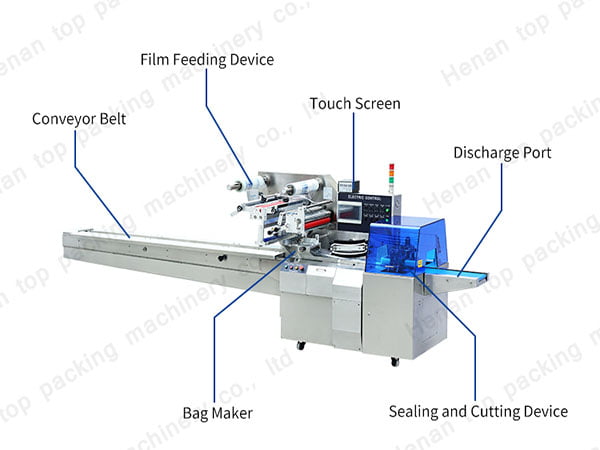 Basic Parameters of Reciprocating Pillow Packaging Equipment
| | | |
| --- | --- | --- |
| Item | HS-450W | HS-600W |
| Film width | Max. 450mm | Max. 600mm |
| Bag making length | 120-450mm | 120-450mm |
| Production height | 10-100mm | 10-100mm |
| Packing speed | 20-80 bags/min | 20-80 bags/min |
| Power specification | 4.2kW/220V, 50/60Hz | 4.2kW/220V, 50/60Hz |
| Machine dimension | (L)4380*(W)870*(H)1500mm | (L)4380*(W)870*(H)1500mm |
| Gross weight | 800kg | 900kg |
| Remarks | Gusset bag device | Gusset bag device |
Features of Reciprocating Pillow Type Packaging Machine
Advanced dual frequency conversion design, so that it's very convenient to control the bag length, saving time and film;
Reasonable construct, stable performance, PLC computer control, easy operation;
It has the function of self fault diagnosis, clear fault display;
High sensitivity photoelectric eye tracking system, digital input for accurate sealing and cutting position;
Positioned stop function, no sticking to the knife, no waste of film;
The end sealing gusseted device makes the bag shape more beautiful and improves the product grade;
Reciprocating end sealing mechanism, more firm sealing, no loss of film sealing cutter;
Mechanism design is easy for maintenance.
Applications of Reciprocating Pillow Packaging Equipment
This machine is particularly suitable for industries of wider and higher products, angled structures, and thicker packaging films, and higher tightness requirements. Packaging various regular items such as bread, biscuit, fresh fruit, egg roll, instant noodles, moon cake, medicine, hardware, industrial parts, paper boxes, plastic, quick-frozen food with tray, articles for daily use, etc. For the sealing style, only back seal is available. Because the components have excellent collocation, this machine is of superior quality. We also provide the customization service. This can not only provide packing solutions to you but also help you experience considerate and thoughtful services. In addition, we supply the muti-head weigher packing machine for various granules, normal pillow packing equipment, vacuum sealer, etc. Welcome to inquiry at any time!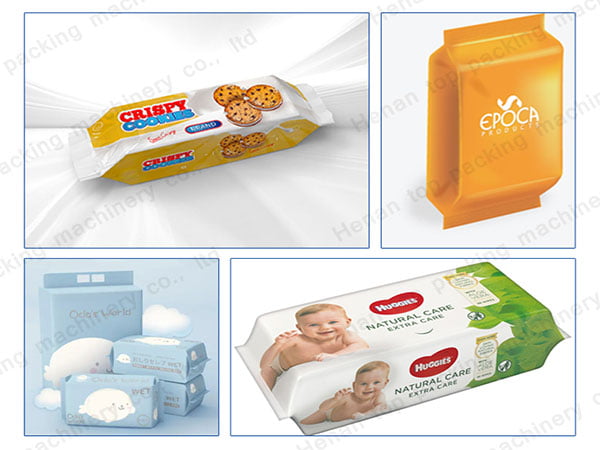 Leave Your Message
In the company, we have professional personnel to answer your questions. For this machine, to sum up, it has the cover, and it runs relying on the three servo motors. Also, the contact parts of the machine adopt stainless steel, ensuring hygiene. The blade speed is adjustable as well. As a company offering packing solutions, we're devoted to the principle of "customer first, quality first". Moreover, we have vegetable packing machine, meat packing machine, candy packing machine, etc. In fact, we support customization for all machines. As a result, don't hesitate to contact us for further information.